Euphoria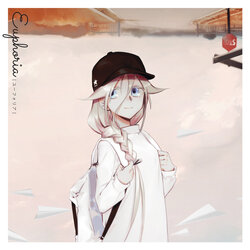 Illustration by しづ
Title
Euphoria
Uploaded on August 24, 2018(niconico&YouTube) and Feburary 22, 2021(bilibili)
13,863+ niconico views, 280,087+ YouTube views and 7,401+ bilibili views
Singer
IA
Producer(s)
じん
Link(s)
Nicovideo
Bilibili
Youtube
Euphoria is a song by じん and sang by IA.
This song is the theme song of the 30th IOI, while IA is also the mascot of the contest. This led to the contest being regarded as 肥宅快乐竞赛.
Lyrics
▼ The text below needs help with translation!

The data or lyrics of this article are copyrighted by the respective owner, and are quoted for the purpose of introduction only.
On that day, the campus I've looked out to,
Is now colored by cerulean like the sky.
In the classroom empty as if none noticed,
I have found that you have gone nowhere.
I think of the boy in the novel I've read,
Who is dreaming an everlasting dream,
Who is chasing after the ruby stars,
Who wishes to become one of the herd.
When I pray to the god eagerly,
When I found anxious words flow through throat,
When I see my reflection on the last train I am on,
Aah, I have yet to found where teenage lies,
nor have I found to which happiness ties.
Even if I am covered in mud,
even if I am tugged by my feet,
I will still be searching,
I will still be searching.
Aah, we are still in teenage years,
If the warm days is nullified,
Becoming a part of the past
Then let's make a carve on the passed.
We are standing in the world.
Going on like kids, I think.
Aah, We are still in teenage years,
The days of battle will start now,
In our eyes, In our hearts.
You should have noticed this also.