Hatsune Miku
Translation in progress

This article is currently being translated from

zh:初音未来

; it may be incomplete, inaccurate or obfuscating.

Moegirlpedia hopes that you can help with translating, proofreading, or copy editing this article.

Progress:

30%This template was placed on 01:52, 16 February 2020 (CST). The last edit was on 16:25, 26 November 2022 (CST).
| | |
| --- | --- |
| | The content in this page needs long-term update, the data in this page might not be the latest. |
"
Number One Princess in the World!
"
Hatsune Miku (Japanese: 初音ミク), sometimes referred to as Miku Hatsune, or Miku for short, is a humanoid persona voiced by a singing synthesizer application developed by Crypton Future Media.
Name
The name of the character comes from merging the Japanese words for first (初 hatsu), sound (音 ne) and future (ミク miku), thus meaning "the first sound from the future", referring to her position as the first of Crypton's "Character Vocal Series."
Her name in Chinese is "初音未来" .
Her codename of "CV01" means "Character Voice 01".
Vocal
Miku's vocal sample is provided by Fujita Saki after considering about nearly 500 vocal samples, because Fujita's voice is "clear and cute"(分かりやすくかわいらしかった)[2]. When recording, Saki speaks at a "cute idol voice". The process took 2 days and 3 hours per day, and the recording context is meaningless combinations of romaji[3]. The demo song produced with the vocal surprised Fujita Saki, and she thought it was "very cute"[3]. In fact, the voice produced with the vocal is not at all similar to Fujita Saki's own voice, though she could imitate it anyway[4].
Versons & Settings
Note: Only official settings are listed here. According to the open attitude of Vocaloid community, Hatsune Miku may have a variety of secondary settings.
V2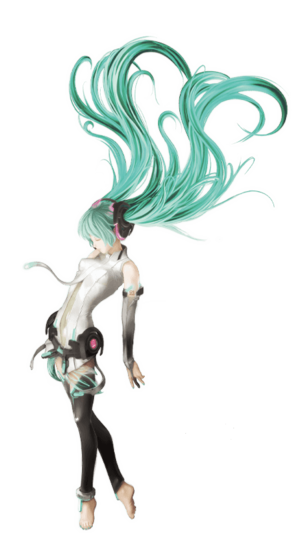 The official figure of Hatsune Miku(V2) is drawn by KEI. The reason that KEI was chosen is because CRYPTON thinks his drawings "transparent"[2]. She has Aquamarine twintails, and the clothing and the machinery are based on the DX7 synthesizer released in 1983 by YAMAHA[2]. The red characters "01" on her left arm is set to be a QR code(Along with the supplement of her clothes by DIVA serie, the Logo of "01" would also be moved to proper positions or cancelled according to the features of the clothes), while the original setting of her suit is sailor suit but changed to the present design because CRYPTON was not satisfied with that[2].
the library of Hatsune Miku V2 was released on Aug. 31st 2007, and the prize was 15,750 yen, thus the day was defined as Miku's birthday[5]。
Miku's voicebank at the begining suits idol pop and dance music the most, and has a optimum tempo of 70~150 bpm, a range of expertise of A3~E5[6]。
There are at total 3 demo songs: ballade, かくれんぼ and pops. None of the three songs is a full version.
Append
Miku used to have only one timbre after the first release, but on Apr. 30th 2010, the appending library "Hatsune Miku Append" was released, six timbres were added[6][7].
The official design of upgraded Hatsune Miku Append was created by Masaki Asai. The custom became more fictional overall, and the twintails continued to exist while the earphone disappeared. The hair became greener comparing to the V2 version and the sleeves became tighter. The "01" LOGO on her left arm was retained, and the tie became imbedded in the doublet (which in the DIVA version is ON the doublet); the skirt was changed from the short pleated skirt of V2 to one consisting of the extension of the bodice and some fictional ornaments and widgets attached to it, on the widget at the back of her waist, there is a black wire extending in the shape of tail(which was ignored by some versions of models). She doesn't wear shoes, and has a white foot ring with a "Crypton" logo on her left ankle.
Hatsune Miku Append appended six separate voices qualities including Sweet, Dark, Soft, Solid, Vivid, Light, for further information please check the table below.
| Voice quality | Feature | Genre | Optimum tempo/BPM | Optimum range |
| --- | --- | --- | --- | --- |
| Sweet | Breath and sweet whisper sharpened | French pop, Ballad, Electronica | 55~155 | F3~D5 |
| Dark | Placid and a bit sad voice | Ballad, Jazz, Folk, Ambient | 60~145 | D3~B4 |
| Soft | a Smooth and gentle voice | Soft Rock, Ballad, Folk, Ambient | 70~150 | A3~E5 |
| Light | a vivid and refreshing voice that is active and vigorous | Pop, Rock, Dance, Techno Pop | 85~175 | A3~D5 |
| Vivid | Exhilarated voice with a clear tongue | Pop, Techno Pop, Trad | 95~180 | G3~D5 |
| Solid | a hard, expanding and tense voice | Pop, Rock, Dance, Electro | 65~160 | D3~C5 |
Hatsune Miku Append has 6 demo songs in total, including 夜の虹 (solid & sweet) , shoelace(vivid) , 影踏み (dark & soft & sweet), 私らしさ(dark)、chocolat (sweet) and ハニビー!(light)。
V3
the design of Hatsune Miku V3 is done by iXima. The library was released on Sept 26th 2013, The prize was 17,280 Yen[8].
Hatsune Miku V3 has 5 voice qualities including ORIGINAL, SWEET, DARK, SOFT, SOLID[9]。 For further information, please check the table below.
| Voice quality | Feature | Genre | Optimum tempo/BPM | Optimum range |
| --- | --- | --- | --- | --- |
| ORIGINAL | Clear and cute, original Hatsune Miku | Idol pop, Dance | 70~150 | A2~E4 |
| SWEET | Breath and sweet whisper included | French pop, Ballad, Electronica | 55~155 | F2~D4 |
| DARK | Placid and a bit sad voice | Ballad, Jazz, Folk, Ambient | 60~145 | D2~B3 |
| SOFT | a Smooth and gentle voice | Soft Rock, Ballad, Folk, Ambient | 70~150 | A2~E4 |
| SOLID | a hard and tense voice | Pop, Rock, Dance, Electro | 65~160 | D2~C4 |
Hatsune Miku V3 has 3 demo songs, including Six Greetings (Short ver.), Six Greetings (Long ver.), ペイメント and Happy Rainy Day.
V3 English
The design of Hatsune Miku V3 English is done by Zain. Hatsune Miku V3E library was published at the same day when V3 library was published, having a prize of 16,502 Yen or 149$. But a discount is available if you buy both V3 library and V3E library [10]。
The V3E version has 5 demo songs, with only one voice quality.
V4X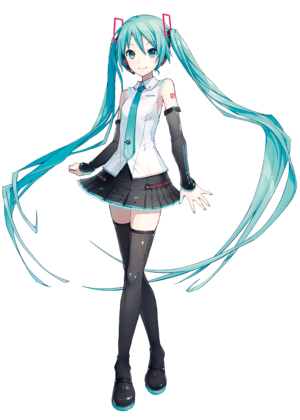 The design of Hatsune Miku V4X is done by iXima, the basic features had a great change.
Is her hair becoming less because she becomes more powerful?
The "X" in "V4X" represents that a E.V.E.C(Enhanced Voice Expression Control) technique is supported, Producers could change the pronouncing tokens with Piapro Studio or VOCALOID 4 editor, in order to tune the "expression" of the voice.
A demo song of V4X was released on Aug. 31st, and the library was released exactly a year later, having a prize of 17,280 Yen [11]. Hatsune Miku V4X has 2 demo songs at present, which are エレクトロサチュレイタ by tilt-six and Music Music by とあ. The Crypton official revealed that lots of famous songs such as Ghost Rule。
Hatsune Miku V4X has five voice qualities, and the EVEC is supported on ORIGINAL, SOFT and SOLID[11].
| Voice Quality | Feature | Genre | Optimum tempo/BPM | Optimum range |
| --- | --- | --- | --- | --- |
| ORIGINAL | Original Hatsune Miku that is obedient, cute and expressive | Idol pop, Dance | 60~160 | A2~E4 |
| SOFT | Softness of the voice is adjustable. Cute and gentle voice | Light Rock, Ballad, Folk, Ambient | 60~160 | A2~E4 |
| SOLID | Hardness of the voice is adjustable. Tense voice. | Pop, Rock, Dance, Electro | 65~160 | D2~C4 |
| DARK | the voice and breathing are clean. Beautiful and melancholy voice. | Ballad, Jass, Folk, Ambient | 60~160 | D2~B3 |
| SWEET | A beautiful whispering voice that contains a lot of sighing. | French Pop, Ballad, Electronica | 55~155 | F2~D4 |
V4 English
Different from that of V3, Hatsune Miku V4 English and V4X used the same figure, and released the same day. The prize of the library is 15,120 Yen[12]。
V4C
Ito Hiroyuki, the president of Crypton Future Media, published some information about the developing of V4C voicebank on press conference related to MIKU EXPO 2016.
On Aug. 24th 2017, Hatsune Miku V4 Chinese is officially released and presold by Shanghai Characters License Administrative Co, Ltd. at Shanghai Nikko Hotel, with a prize of 680 yuan.
The library carried a Piapro Studio Standalone which is a new software developed by Crypton and able to be used as a Vocaloid editor, thus the user needn't to buy a Vocaloid 4 editor, which is about 680 yuan.
Quite a few Chinese style details were added to the character design, which was illustrated by 豆の素 (with the help of iXima [13]).
Her hair have grown back.
3 demo pieces were provided by Crypton Future Media at the press conference:
Hello by Mikai Music & MusikM (The demo piece of the song was engineered by Crypton, and the official version is engineered by Digger)
Time Boat by XiaoXu PRO & Shelless Tortoise

The full version produced with Luo Tianyi was uploaded in advance which means they broke the contract.
The full version of the demo song Hello is officially released on Sept. 1st 2017 by Mikai Music.
Another demo song First Storm is produce by a famous Japanese producer DECO*27. It's full PV is published on Aug. 31st on niconico,bilibili,YouTube, the song is an advertising song of Lux China. Till now, the song has already got 370,000 views.
Hatsune Miku V4C has a optimum tempo of 80BPM~150BPM, while her optimum range is C#3~C#4, narrower than V4X ORIGINAL.
In Apr. 2019, Crypton provided free Piapro Studio for Hatsune Miku V4C users. The software is able to be used as a DAW and used to produce with other libraries. Meanwhile, Crypton offered a free license of Presonus Studio One Artist Piapro Edition, as a DAW for the users of Hatsune Miku V4C.
On Magical Mirai 2019, Crypton published that they will provide a free pronunciation fixing upgrade for Hatsune Miku V4C in a year.
NT
Due to the gap between the design concept of CV characters of Crypton and that of Yamaha (Yamaha hopes that Hatsune Miku V5 could imitate Fujita Saki's own voice), later versions of Hatsune Miku may not be named Hatsune Miku V5, instead, it will be named Hatsune Miku NT which is independently developed by Crypton.
At present, Few things were known about Hatsune Miku NT, we could only wait until March 2020, when the trial version is available.
Nicknames
It's said that Miku loves eating leek.
Princess-sama: Ryo posted a song called ワールドイズマイン, the first sentence of the song is "世界で一番おひめさま" which means "No.1 princess in the world", so she is such called.
Thus lots of follower of Miku in Mainland Chian call themselves "knight".
39: 8+31=39, "39"'s pronunciation is similar to that of "Thank You"(

サン·キュー

) in Japanese (That's how "39 kanshasai" comes from), There's also a way to read "39" in Japanese that is the same as "ミク".
Influence
Market Response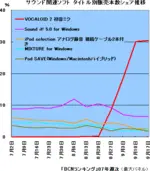 On Aug. 20th 2007, the demo song of Hatsune Miku was released, and was greatly acclaimed, which made the booking of her library very popular, and even exceeded the staff's expectation [14][15].
In the beginning, Hatsune Miku was very popular. On Sept. 10th, Miku accounted for 30.4% of the musical software market in Japan, which is 4 times of the second place[15]. And the decrease after that is also because of the release of Kagamine Rin·Len. The popularity of Hatsune Miku also increased Crypton's markets share from 6% to 33.9% in [15].
The DTM Magazine Oct. 2007 which has a 10-days trial of Hatsune Miku in addition, also sold out quickly. In many bookstores, the magazine was sold out in only a few hours. [16]. Since the magazine has no reprints, it was resold on auction websites such as Yahoo, and some even traded at triple the original price.[17].
Till Jan. 2008, about 30,000 copies of Hatsune Miku had been sold[18]. Till Jul. 23rd 2008, about 40,000 copies were sold. and continued to increase at a speed of 300 copies per week[19]。
the Trend of Creation
Since the release of Miku, lots of cover songs by Miku has been posted onto niconico, and became a great topic, which has promoted sales of Miku in turn. Till Sept 28th 2007, about 2,000 posts about Miku had been posted onto niconico[20]. Till mid-Oct. 2007 , more than 5,000 posts were posted[21], and more than 10,000 posts on Nov. 24th 2007[22]. In the early ages, lots of works using Miku were covering famous songs, but there are also quite a few original songs, which has reached 1,000 around Dec. 2007[23]. In 3 months after the release, about 25,0000 producers participated in the creation of related works[23]。
Due to the unlimited copyright of Crypton, and the non-detailed setting of Miku, she has a great fandom[24]. Illustrations appeares on websites like pixiv, and lots of dancings or covering works are published on the web. In Nov. 2007, "THE VOC@LOiD M@STER", a Vocaloid special fanzine sale was held[25].
Even some creators also participated in the creation of Miku's related work. At the same time, some commercial companies also tried to create music with Miku, for example "ave;new" used Miku's voicebank to cover the song True My Heart and snow of love[26][27]. Fukushima Prefectural Otaka Business school used Miku's voicebank to sing the public version of their school song[28], The song Sakuranoame released on Feb. 23rd 2008 became a choice of the Graduation song for many students[29][30].
So far, in the only 6 Vocaloid songs that reached 10,000,000, 3 of them are solos by Hatsune Miku, 1 of them is sung by Hatsune Miku and Gumi, 1 is sung by Hatsune Miku and Megurine Luka, while one is a solo by GUMI.
Cultural Influence
On Oct. 22nd 2007, "Hatsune Miku" was included in the Japanese Yahoo! dictionary[31]. On Nov. 14th 2007, "Hatsune Miku" and "Mikkumiku" were included in Basic Knowledge of Modern Terms[32].
On Aug. 24th 2008, Hatsune Miku won the 39th Nebula Award for the Freedom Division[33]. In a survey done in October 2008, 60.6% of them said they knew Hatsune Miku[34]. The magazine Highlighting JAPAN, which is used by Japanese government to promote Japan overseas, also published information about Hatsune Miku [35].
In 2009, Hatsune Miku participated Animelo Summer Live as a guest, this is the first big show that Hatsune Miku have ever participated. The show had got a good response[36].
Since 2010, Snow Miku became a supporting character for Sapporo Snow Festival, and the "SNOW MIKU" activity is held every year.
In Oct. 17th and 18th 2011, an academic seminar was held in MIT, focusing on social phenomena caused by VOCALOID and Hatsune Miku, discussing on the study of Japanese new culture, MMD and holographic imaging.[37].
On Dec. 16th 2012, Hatsune Miku became the spoke person of Google Chrome Japan, and performed a promotional video for Google Chrome browser, the advertising song Tell your world became one of the famous songs of Hatsune Miku[38].
On Apr. 6th 2014, Lady Gaga announced that her favorite electronic pop star Hatsune Miku will be participating in her artRAVE: ARTPOP Ball tour, and would attend 16 of the total 37 performances[39], and this linkage is also a reason that Miku was elected as the eighth most influential avatar in 2014 by Time Magazine[40].
On May 28th and 29th 2014, as the first stop of Miku Expo world tour exhibition, Hatsune Miku Expo 2014 in Indonesia was held in Jakarta, the capital of Indonesia.
On Jun. 27th and 28th 2015, Hatsune Miku Expo 2015 in Shanghai is successfully held at Shanghai GameFY e-sports Center. This is the first official performance of Hatsune Miku in mainland Chian, which means Miku's development in China reached a higher level. The Hatsune Miku Expo 2016 China Tour in Shanghai & Beijing held in Dec. 2016 were even full.
In 2017, Snow Miku became the promoting ambassador of Asian Winter Gams[41].
Related Collaboration
In Sept. 2018, the BanG Dream! Mobile Game and Magical Mirai 2018 launched a collaboration, 3 bands and vocal groups planned by BanG Dream! covered 3 famous Vocaloid songs ロストワンの号哭, Romeo and Cinderella, Alien Alien. Not only did the BanG Dream! add the songs to their game GBP, but they also produced a full PV for each song. Meanwhile, BanG Dream! official has also got an exclusive booth in Magical Mirai 2018.
In Feb. 2019, a girl band Poppin'Party planned by BanG Dream collaborated with Hatsune Miku, and published a cooperative song 夜行性ハイズ; and a chorus version of the song sung by Kasumi and Hatsune Miku was shown at the 70th "Sapporo Snow Festival" venue.
In Aug. 2019, BanG Dream! Mobile Game collaborated with Hatsune Miku again in the name of "Summer Inspiration", the band/vocal group Pastel*Palettes covered a famous Vocaloid song Mechanism clown, with full PV published. At the same time, the short MVs of the four songs in the two years are also loaded in the game as background MVs.
In Aug. 1st 2019, Reya posted the information that "NEKO will collaborate with Hatsune Miku" on the official twitter of Cytus II, but since the day was the April Fools' Day, this message is regarded as an April Fool's joke by most of the players. However, a limited collaboration icon with the characters "39" was disclosed later, which means that the Collaboration wasn't a April Fool's joke. On May 30th 2019, Cytus II was updated to 2.3.9 (the version is even "39"), Miku was added to the game as an independent character music pack. Meanwhile, due to the special worldview of Cytus II, a specific plot was given to Miku in the game. Because of reasons like the copyright, the pack of Miku is only available to buy before May 31st 2020, but after the purchase, you could play it forever.
This section may contain major

spoilers

!

Consider skipping these contents if you are not yet familiar with all the latest media releases.
Miku's experience under the Worldview of Cytus II
"
Hatsune Miku, a singer of new generation under Saito Entertainment, who became popular at the beginning of her idol life for her beautiful appearance, voice and dances. It took only a few months for her to conquer Node 03, and made countless fans crazy for her through the network of nerve. The story of she who loves singing unfolds on the stage
"
On Oct. 9th 702 (MHall), Miku offered a live performance, after that, Miku talked to Team Member A at SLab01, and wonders why she could only return back to her room instead of attending the party. On the party, The member told director Furuhata that Miku complained being not able to attend the party. The director planned to reset her or interact with her.
On Nov. 3rd 702 (SLab01), Due to the network shock of Cytus, companies depended on were influenced, so was Miku. Common communication with her was invalid, and the concert had to be cancelled. They end up resetting the original Miku, and used a new version of Miku.
[DATA EXPUNGED] Miku found lots of Miku's copies, and her mood collapsed.
[DATA EXPUNGED] "[DATA LOST]" Helped Miku to return the original host. Miku also learnt that she was a simulating personality, and may be even formatted.
On Nov. 7th 702 (SLab03), the director chatted with Miku over the galaxy, and explained how Miku was created to her briefly, but Miku couldn't accept the truth. An exception occurred when executing the deleting program.
On Nov. 12th 702 (SLab03), Miku2.4 did a great job replacing Miku2.3.9. But the director thought it was interesting, so he placed Miku 2.3.9 into the reality interactive machine. However,
Miku unexpectedly found some photos of the director's wife, annoyed the director, and was forced to shut down.
On Nov. 14th 702 (tsuki), the director told to the superior about Miku 2.3.9. After coming back home, his wife still wanted to donate money to the department. But considering the situation of the department, he wouldn't like to do so. A child they used to help was holding Miku's album.
On Nov. 16th 702 (SLab03), the director told Miku some of his things and the change of the department.
On Nov. 20th 702 (Saito), the director argued with about whether they shall use Miku2.3.9 or not.
On Nov. 30th 702 (MHall), the director uploaded Miku 2.3.9 urgently to offer a performance. Miku sang for everyone.
On Dec. 9th 702 (SLab03), The director was about to leave and explained something. In the end, Miku sent a log telling she felt no regret to be the director's child.
source: Cytus II Chinese Wiki(may be invalid)
List of the Tracks
Title
Author
Difficulty
Note

Easy

Hard

Chaos

Blue Star
8 Prince
3
6
11
The theme song of HATSUNE MIKU EXPO 2016
BREAK IT
Yunosuke
4
8
13
Can't Make a Song!!
beat_shobon
4
7
12
An English song which got the first place of MIKU EXPO 2018 U.S. & Mexico composing context
Miku
Anamanaguchi
3
6
10
English song. There are many easter eggs at the beginning of its CHAOS chart
Sharing The World
BIGHEAD
3
6
10
the theme song of MIKU EXPO 2014 in LA & NYC, also included in Hatsune Miku Project Diva X
Venus di Ujung Jari
mohax
1
5
8
The first Indonesian song included in Rayark Game, whose name means Venus at your fingertips. The song is from MIKU EXPO 2014. The producers are from "VOCALO.ID", a Indonesian music group.
Rakki Obu
emon(Tes.)
4
7
11
the theme song of MIKU EXPO 5-year anniversary
Maho mitaina music!
OSTER project
3
7
13
Yue Xijiang
SolPie
2
5
8
The only Chinese VOCALOID song in the game so far, and the second Chinese Vocaloid song in Rayark Game (the first one is Jiao Jiang in VOEZ.
Ten Thousand Stars
CircusP
4
6
12
English song. The champion song of MIKU EXPO 2016 composing contest
Glass Wall
GuitarHeroPianoZero
2
6
11
English song produced by a Canadian producer
Cybernetic
Yunosuke × Circus-P
3
7
12
Decade
Dixie Flatline
3
6
9
The theme song of MIKU EXPO 2018 in the U.S. and Mexico
ラッキー☆オーブ(3R2 Remix)
emon(Tes.)
4
7
11
Another song whose both original and remix versions are included after BMM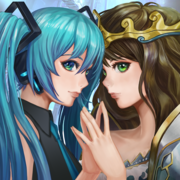 Between Sept. 9th and Oct 6th 2019, Tower of Saviors, a mobile game, collaborated with Hatsune Miku series. Special magic stone "Starlight Stage", and 8 cards of "Virtual Singer", were launched. Special levels and duplicates were also launched.
Type of the level
Name of the level
the Song, Event or Character
the character of the card
Periodic Stages
MIKUMIKUlization
Miku-Miku ni Shite Ageru
Waving in Blue-Green - Hatsune Miku
Bliss of Spinning
Double Lariat
Everlasting Dreamland - Megurune Luka
Ultimate Stages
Leap of Faith
Melt Down
Condemned Fantasy - Kagamine Rin
Spin until Fed Up
Mechanism clown
Dramatic Costume - Hatsune Miku
Joint Operation
Concert Soon Begins
MIKUEXPO 2019 in Hong Kong and Taiwan
Hatsune Miku MIKUEXPO 2019
World Assembly
Blessing from Alternate Universe
Chant of Wishes
Hues of Saviors - Hatsune Miku
Coliseum
As Pure As Snow
Snow Miku
Winter Anthem - Snow Miku
Since Sept. 30th 2019, the perpetually included cooperative songs Cendrillon, Romeo and Cinderella, butterfly on the right shoulder and their original song Chant of Wishes became the background music in the game.
Not only did they design a special welcoming illustration, but they also put Miku cruising the Ino Tower onto the mainpage.
Crossovers in Other Works
Girl who crossed the universe Season 2 CM, with Fujita as her C.V. (Fujita is also the C.V. of Miku)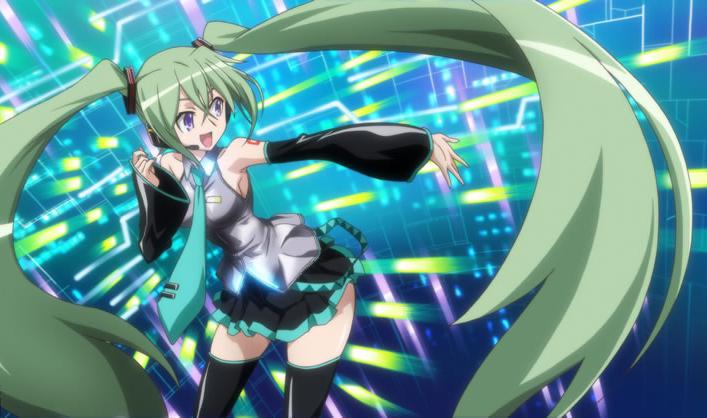 a figure in Himoto! Umaru-chan

Here Umaru pronounced "Miku" as "Migu" It's might be a pseudonym for fear of copyright disputes
a Spirit of flower called "Hatsune" in the anime Flower Angel( )
a crossover in PSV/PS4 Persona 4 Dance Night Carnival as a DLC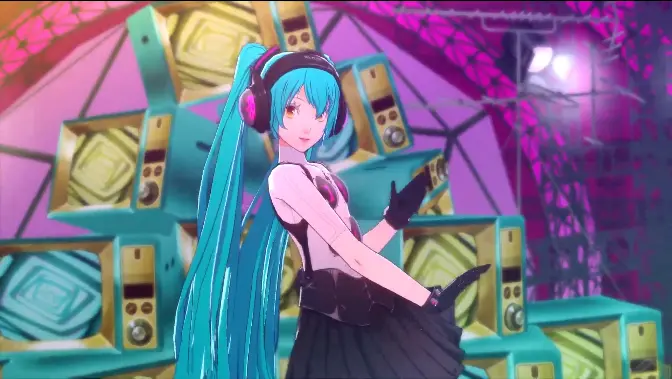 Miku appeared in Episode 25 in the Girl who Crossed the Universe
Suspected crossover in the first episode of UN-GO
A crossover in Maria Mania Episode 12
A Hatsune Miku suit, hair, leek(sward) is included in PSP Phantasy Star 2
The character "発音ミク"(Hatsune Miku) in SHINKALION THE ANIMATION, who is voiced by Fujita Saki, and tuned into a sound like Miku by Crypton.
a true crossover in PSP seventh Dragen 2020 and PSP seventh Dragen 2020 II, a character in the bgm
Crossover in a mobile game Forever Seven Days as a cooperative character
Similar suit in a DLC of Saints Row 4
Since a collaboration was done with LET'S GO!K.R.T.GIRLS, some illustrators would draw Miku in some of their four grid comics.
Hatsune Miku -- the epic legend of ameonna
Strangely, every time an activity is held with Miku there, huge or small natural disasters occur in Japan[42].
2008
Aug. 23rd, SUPER GT 2008, heavy rain.
2009
Mar. 14th,the Yappa Asobina matsuri 09 "Hatsune Miku-Project Diva-(kashou) Miku's secret", the strong wind and the heavy rain begun in the morning paralyzed the traffic.
Mar 21th, SUPER GT 2009, rain.
Aug 31st, Hatsune Miku Festival 09(Summer), a tsunami, and a magnitude 3.9 earthquake, OSTER project's feet was soaked in the water.
2010
On Mar. 9th, the Kanshasai on Miku's Day, the rain became snow, trains buses and flights delayed.
Feb. 28, The broadcast date of Anison SP2, was delay because of the tsunami.
May 28th, a Venus probe called Akatsuki was launched, it's full of words and pictures of Miku's fans, but was aborted due to the rain in the launch area.
On June 23rd, the first day of Project DIVA Arcade, it rained across Japan.
On Jul. 29th, Hatsune Miku -Project Diva- 2nd released, it rained across Japan, and has thunder at some places.
On Oct. 30th the Commemorative CD Cinnamon Philosophy / OSTER project feat. Hatsune Miku, rain.
2011
Aug. 16th, the first day of Hatsune Miku Sapporo Concert, heavy rain.
Aug. 17th, the last day of Hatsune Miku Sapporo Concert, another heavy rain.
2015
PS: Affected by typhoon.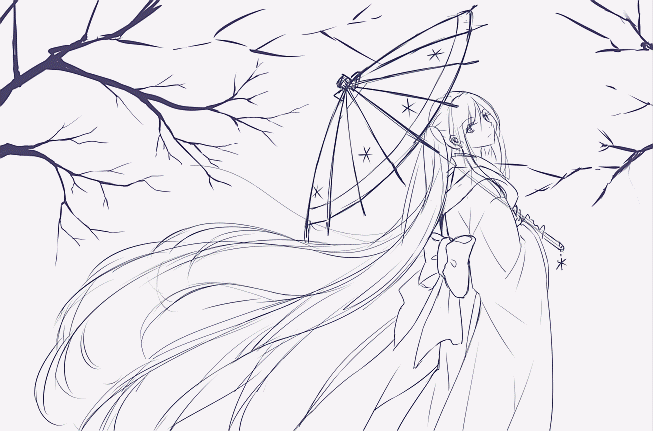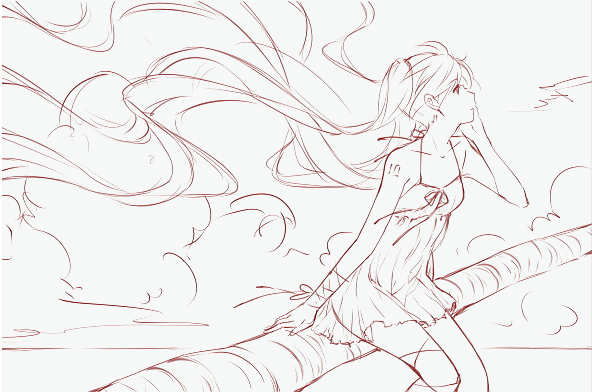 Previous Large Concerts
Read Hatsune Miku/Concerts for more information
Derived Games
Hatsune Miku: Project Diva Serie
Main entry: Hatsune Miku: Project Diva Serie
Hatsune Miku: Project Diva Serie is a music game developed and released by SEGA, the game is to press the correct button at a correct tome.
The game used to be only available for Sony's consoles (PSP, PSV, PS3, PS4). The PSP version was developed by SEGA and DINGO, INC. The other versions were developed only by SEGA.
Hatsune Miku: Project Diva
The first version Hatsune Miku: Project Diva(Japanese: 初音ミク -プロジェクト ディーヴァ-) was released on Jul. 2nd 2009, and the platform is PlayStation Portable[43].
Later sequels were released: Hatsune Miku: Project Diva 2(PSP), Hatsune Miku: Project Diva extend (PSP), Hatsune Miku: Project Diva: Dream Theater (PS3), Hatsune Miku: Project Diva Dream Theater 2(PS3), Hatsune Miku: Project Diva: Dream Theater extend(PS3), Hatsune Miku: Project Diva f(PSV), Hatsune Miku: Project Diva f2(PSV), Hatsune Miku: Project Diva F(PS3), Hatsune Miku: Project Diva F2(PS3)Hatsune Miku: Project Diva X(PS4), Hatsune Miku: Project Diva X HD(PS4), Hatsune Miku: Project Diva Future Timbre (PS4).
In 2020, a sequel of the series will be launched on Nintendo Switch: Hatsune Miku: Project Diva MEGA39'S.
Miku Flick Serie
Main entry Miku Flick
Miku Flick Serie is a sequel of Hatsune Miku: Project Diva, a music game for iOS. The game uses the PS3 version of game modeling. The game is to input the lyrics at the correct time using the input method Flick. The Japanese version was launched in App Store on Mar. 9th. The international version was released on Apr. 9th. The sequel Miku Flick/02 was released on Aug. 10th 2012, More songs were added, and needed to be paid。
This game has already been discontinued
Project Mirai Serie
Main entry: Hatsune Miku Project Mirai
Project Mirai Serie is a sequel to Hatsune Miku: Project Diva, a music game rus on Nintendo 3DS, the modeling is similar to the Good Smile's nendoroids which have 3-head tall bodies, The game was released on Mar. 8th in Japan, an the official didn't release an international version. The sequel Project Mirai 2 was released on Nov. 28th.
Live Stage Producer Serie
Main entry: Live Stage Producer Serie
Live Stage Producer Serie is another sequel of Hatsune Miku: Project Diva, using the modeling of the PSP version. It's a freeKakin game. In another work, only 2 songs in the game are free to play, and others need to be paid to play. The game runs on Android and iOS, and launched in Google Play in Japan on Nov. 8th 2012. The iOS version was released on Dec. 6th on the App Store in Japan. SEGA promised that a European and American version will be released.
The game has already been discontinued
Music Girl Hatsune Miku
Music Girl Hatsune Miku is yet another sequel of Hatsune Miku: Project Diva, is an app developed by MARZA ANIMATION PLANET for advertising Hatsune Miku: Project Diva F , which is rather an interactive 3D player than a game, it used the modeling that is the same as PSV version, released on iOS and Android in many countries. The time couldn't be verified. the original costume design of the game was pretty beautiful, However, none of the costumes appeared in the official works or DLCs, and that has become a grievance of related players
The game has already been discontinued, but the old versions could still be downloaded from the web
Hatsune Miku GRAPHY COLLECTION Mystery Music Comet
Hatsune Miku: Dreamy Vocal
Main entry: Hatsune Miku: Dreamy Vocal
Hatsune Miku: Dreamy Vocal an authorized mobile music game developed by black sugar studio under OURPALM, run by Tencent Game.
The game has already been discontinued
Hatsune Miku Roller Skating
Main Entry: Hatsune Miku Roller Skating
Hatsune Miku Roller Skating is a authorized music game developed by MiYoo games, run by NetEase.
The game has already been discontinued.
Project Sekai
Main Entry: Project Sekai
On Aug. 30th, SEGA published the planning of the new mobile game Project Sekai at the planning exhibition in Magical Mirai 2019, the slogan was ー緒に歌おう(Let's sing together)
The game is a rhythm and word adventure, the rhythm part will be different from Project Diva Series and be redesigned for the Mobile. The exact release time of the game hasn't been published yet.
Events in Reality
Main entry Hatsune Miku/Events in Reality