Kana Hanazawa's smile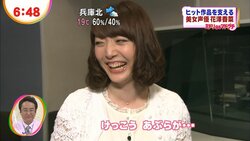 "Kana Hanazawa's smile" is a meme derived from Japanese voice actress Kana Hanazawa.
Introduction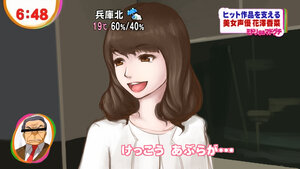 The meme comes from a Japanese variety show. In the program, the famous voice actor Kana Hanazawa showed an incomparable smile (see the picture on the left),[1] and the weather forecasts of various parts of Japan that were scrolling synchronously on the screen just scrolled to "North Hyogo☔ 19℃ 60%/40%". There are also the words "beautiful voice actress Kana Hanazawa" on the screen.
This smile first appeared on a Japanese seiyuu special website, and later[citation needed]The page "Help:Citation needed" does not exist in English Moegirlpedia yet. You may want to refer to this page on Chinese Moegirlpedia: Help:来源请求. (zh:Help:来源请求) was published in the anonymous version of Acfun.
At the end of 2012, the user "二十四桥明月夜下一句" active in Acfun's article area used it as an avatar and posted an article about voice actors, using the photo.
From then on, Hanazawa's smile spread gradually in Acfun. On February 25, 2013, Kana's birthday, the cover image of the anonymous version of Acfun was changed to this screenshot. Hanazawa's smile went viral afterwards.
It should be noted that Hanazawa herself dislikes this meme, so overplaying it hurts the seiyuu. In addition, this meme basically does not exist outside of China.
References