LanCee
Moegirlpedia would welcome your assistance in improving this article☆Kira~

VTuber-related pages on Moegirlpedia are under construction. Readers with editorial intentions are welcome to read the wiki quickstart, editing guidelines and retrieve relevant information. Also, users who are interested in editing/translating and discussing are welcome to join the EnMGP VTB E/TR UG: 730152695.

We wish you a good time on Moegirlpedia.
This article was originally from page

兰希(虚拟UP主)

in

Chinese Moegirlpedia

, and the license might be different from English Moegirlpedia. The contents might differ after being modified by different users on both sides. For more information, see

Moegirlpedia:Copyrights

.


Basics
Name
蘭希LanCee
Birthday
May 31
Horoscope
♊Gemini
Age
18
Height
158cm
Weight
43kg
Eye Color
blue
Hair Color
white
Moe Points
From
Taipei, China
Active in
YouTube, Bilibili
Group Affiliation
VOICEMITH, V-Club
Related Characters
V-Club:HeiHei, DeeLA, DooDoo
VOICEMITH:Oscar, Xia Yu Yao, Joan, ZETA
LanCee (蘭希) is a VTuber that has been active on YouTube and Bilibili on May 31, 2019.
Overview
A bright and lively appearance, a meticulous heart, a smart, high-achieving student who has high musical attainments, can dance, can sing, is willing to try and challenge all kinds of new things, always have solutions to emergencies, love reasoning, and puzzle games..... Good at sociability Occasionally, there will be moments when a girl's heart breaks out and there is always a dull moment where she can't turn her brain.[1]
Singing VTuber
Speak Chinese and English
Grows up, originally set to 18 in 2019, has reached 20 in the new setting on November 5, 2021.
Character design
With a white evening dress as the main element, the body is wearing black stockings, and it is matched with a triangular prism hair accessory. The middle is a seven-color dress. There are also seven-color lines on the clothes to represent her light attributes.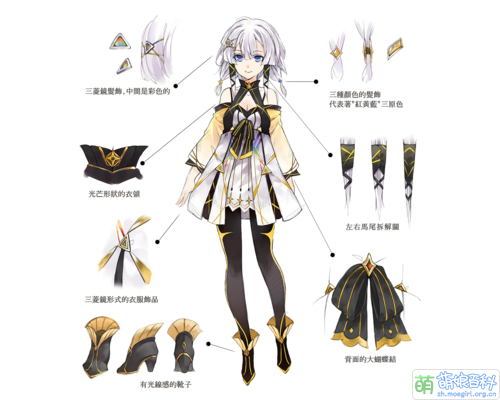 Some of Her Videos
Musical Work
Original
Date
Song Name
YouTube
bilibili
Note
2019/6/13
Cosmos Dreams
YouTube
Bilibili
N/A
2019/10/12
The World in My Writings (我筆下的世界)
YouTube
N/A
10th Golden Comic Awards Ceremony Theme Song
2019/12/18
Soul Adventures
YouTube
N/A
Soul Magic Theme Song
2020/5/7
I Could Be Real
YouTube
Bilibili
N/A
2020
Sunny Day (晴天) (Chorus Version)
N/A
N/A
Sing with Xia Yu Yao
Included in "Music Collection", which comes with Xia Yu Yao's second official music album "Return to Origin"
There is also a solo version of Xia Yu Yao, including in "Return to Origin"
Cover
Date
Title
YouTube
bilibili
2019/7/30
Alan Walker, Sabrina Carpenter & Farruko - On My Way Cover by LanCee
YouTube
Bilibili
2019/11/30
Into the Unknown - Frozen 2 (LanCee Cover)
YouTube 1
YouTube 2
N/A
2021/4/21
【V-Club LanCee】《Live Cover》- Stay With Me
YouTube
N/A
2021/4/26
【V-Club LanCee】《Live Cover》- I'm yours
YouTube
N/A
2021/4/29
【V-Club LanCee】《Live Cover》- 逆光
YouTube
N/A
References
External links