The Three-Body Problem/Derivative works
This page sorts out the messages of the derivative works of The Three-Body Problem.
Comics
The Three-Body Problem comic version by Huanchuang Weilai, serialized in Tencent Animation & Comics in November 2019. It currently maintains weekly updates. [1]
Synopsis: A large number of scientists die for no apparent reason, uncovering an unusual disturbance in the Earth's scientific community. Nanoscientist Wang Miao enters the mysterious MMO "Three-Body" and begins to gradually approach the truth of this world. While attending a player gathering, Wang Miao comes into contact with a secret organization (ETO). The Earth Defense Organization's China Battle Command Center breaks the rules and promotes a suspended police officer, Shi Qiang, to investigate the incident, and the two, in mutual disagreement, begin to face the great changes in the world together…
STAFF
Produced by: Huanchuang Weilai, Tencent Animation & Comics, Ba Guangfen, boodo
Author: Huanchuang Weilai
Project coordinator: Dai Haoran
Editor-in-charge: Peng Sibo
Comic Editor: Ge Wendi
Comic Script: Cai Jin
Lead Writer: Caoji Jiu Ri Dong
Assistant: Xiao Xianyu
Animations
Official animation The Three-Body Problem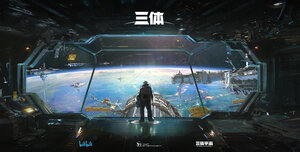 Produced by bilibili and co-produced by The Three-Body Universe and producer YHKT ENTERTAINMENT, it is expected to be released in 2021, with a total of three swordholding, wallbreaking, and wallfacing 18 episodes. [2]
Synopsis: Countless thin lines stretch across the starry sky like a giant brush. The Trisolaran Fleet will arrive in 400 years. Distant butterflies flap their wings and also change the fate of Luo Ji, and behind the door that opens with a bang is the centre of the world - the Wallfacer Project opens. Meanwhile, inside the wall-breaking chamber created by Sophon, the wall-breakers take their places one by one…
Main article: The Three-Body Problem (YHKT ENTERTAINMENT)
Unofficial animation Waterdrop
Unofficial animation Mine Threebody Animation
Scene sounds
Audio drama
Audiobook
Multiplayer audio drama
Movies
Director Zhang Fanfan ver.
Director Tian Xiaopeng ver.
TV series
Netflix ver.
Tencent Video ver.
Popular science books
Fan fictions
Fan songs
Fan games