The Three-Body Problem/Derivative works
This page sorts out the messages of the derivative works of The Three-Body Problem.
Comics
The Three-Body Problem comic version by Huanchuang Weilai, serialized in Tencent Animation & Comics in November 2019. It currently maintains weekly updates. [1]
Synopsis: A large number of scientists die for no apparent reason, uncovering an unusual disturbance in the Earth's scientific community. Nanoscientist Wang Miao enters the mysterious MMO "Three-Body" and begins to gradually approach the truth of this world. While attending a player gathering, Wang Miao comes into contact with a secret organization (ETO). The Earth Defense Organization's China Battle Command Center breaks the rules and promotes a suspended police officer, Shi Qiang, to investigate the incident, and the two, in mutual disagreement, begin to face the great changes in the world together…
STAFF
Produced by: Huanchuang Weilai, Tencent Animation & Comics, Ba Guangfen, boodo
Author: Huanchuang Weilai
Project coordinator: Dai Haoran
Editor-in-charge: Peng Sibo
Comic Editor: Ge Wendi
Comic Script: Cai Jin
Lead Writer: Caoji Jiu Ri Dong
Assistant: Xiao Xianyu
Animations
Official animation The Three-Body Problem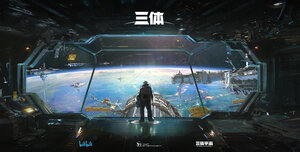 Produced by bilibili and co-produced by The Three-Body Universe and producer YHKT ENTERTAINMENT, it is expected to be released in 2021, with a total of three swordholding, wallbreaking, and wallfacing 18 episodes. [2]
Synopsis: Countless thin lines stretch across the starry sky like a giant brush. The Trisolaran Fleet will arrive in 400 years. Distant butterflies flap their wings and also change the fate of Luo Ji, and behind the door that opens with a bang is the centre of the world - the Wallfacer Project opens. Meanwhile, inside the wall-breaking chamber created by Sophon, the wall-breakers take their places one by one…
Main article: The Three-Body Problem (YHKT ENTERTAINMENT)
Fan animation Waterdrop
Wang Ren produced a The Three-Body Problem fan animated short film, which was uploaded and released on September 15, 2015. on August 19, 2016 had won the Xingyun Awards for Global Chinese Science Fiction Film Best Short Film Award. Da Liu commented on it, "I can responsibly say that this is the The Three-Body Problem film in my mind, and if I can make this kind of mood, I will really die in peace."
Main article: Waterdrop
Fan animation Mine Threebody Animation
Mine Threebody Animation started as an anime series adapted from The Three-Body Problem by Godspeed and its production team using the cube sandbox game Minecraft as the engine. Due to the limitations of the MC game itself, the production team partially joined the animation production from the eighth episode. From the ninth episode they completely abandoning the MC platform and turned to imitate the MC style animation production.
The first season of the initial production is completely amateur level, the picture is extremely broken, but in the joint efforts of many parties, the eleventh episode achieves the technical explosion. After the director of the second season to get the official license, a variety of problems further alleviated, the picture funds visible to the naked eye, a qualitative improvement. The third season of Mine Threebody Animation: The Legend of Zhang Beihai was a big hit.
The fourth season is currently in production.
Main article: Mine Threebody Animation
Scene sounds
Audio drama
Audiobook
Multiplayer audio drama
Movies
Director Zhang Fanfan ver.
Director's Edition by Zhang Fanfan
Produced by Yu-Gi-Oh Films and Ali Film, directed by Zhang Fanfan. Scheduled for release in July 2016. Now bounced check indefinitely →_→
STAFF
Producer: Kong Ergou
Director: Zhang Fanfan
Screenwriter: Song Chunyu
Executive Producer: Liu Cixin
Cinematographer: Chris Chomyn
CAST
Director Tian Xiaopeng ver.
A live-action film produced by Octmedia, with original Coloroom Pictures founder Yi Qiao and executive producer Wei Yunyun as producers and Monkey King: Hero Is Back director Tian Xiaopeng as director, was announced for production on June 23, 2020.
TV series
Netflix ver.
On the night of September 1, 2020, Netflix announced that it will turn The Three-Body Problem trilogy of novels into a drama series. It is understood that the drama version will be created by Game of Thrones creators David Benioff and D.B. Weiss in collaboration with The Terror season 2 operator Alexander Woo, with original author Liu Cixin and English translator Ken Liu as consulting producers. [3] Filming is expected to begin in November 2021.
Tencent Video ver.
Co-produced by Tencent Video, The Three-Body Universe and Linghe, and exclusively broadcast by Tencent Video.
STAFF
Original Author: Liu Cixin
Director: Yang Lei
Producer: Bai Yicong, Dong Jiaqi
CAST
Popular science books
Physics in Three-Body
By Li Miao, a Chinese physicist and science writer, with a recommended preface by Liu Cixin, "A Science More Magical than Science Fiction" has won many awards, including the World Chinese Science Popularization Gold Award.
A popular science work that analyzes the physics related to the science fiction content in The Three-Body Problem with a truly scientific perspective, which has been recognized and praised by Liu Cixin himself.
The book exhaustively introduces the possibilities of realization of Sophon, Waterdrop, dual vector foil, gravitational-wave system, curvature navigation, dimensional change, mental steel, dark forest, etc. with the relevant science fiction content of the frontier of modern physics.
Fan fictions
Three-Body X: The Redemption of Time
This is a work of homoerotic fiction created by netizen Bao Shu for the The Three-Body Problem series.
It was originally published on newsmth.net and Baidu Tieba, and was widely praised (but later some people thought its plot was cliche, a wretched sequel to fine work). And then it was published by Yao Haijun, the deputy editor-in-chief of Science Fiction World.
The work filled a gap in the plot, and this gap was intended to be a parallel novel, so it was hard to hold back The Three-Body Problem 4. True-fans hound officials to death
Fan songs
Mine Threebody Animation Production Team Project
Hellsaga Mosken's Creation
Others
Fan games
Author: Da Biange (alias Uncle Fish)
This is a game based on the original book The Three-Body Problem. In this game, the individual plots are made into small modules, independent of each other but connected.
The main task of the game: rush to Chao Ge (total rush distance: 999,999,999 trilogy distance, default rush speed: 1 trilogy distance/s) (also the only feature on iOS)
Note: This game is not for profit, a tribute to the original author Mr. Liu Cixin
The Facebook company has developed a Go program based on deep learning techniques of convolutional neural networks and Monte Carlo tree search technology, naming it Darkforest. Tian Yundong, a researcher at Facebook's Artificial Intelligence Institute, who is in charge of the project, claims, "I named my program 'Dark Forest' because I'm a fan of The Three-Body Problem. "
Notes
External links