Arknights
Moegirlpedia reminds you that this article may need to be significantly revised, and

new users are advised not to imitate this article's format to create a new article.

If you know how to improve this article, you can try

editing it

.
Arknights

Original Name
Official Translation Name
Arknights


アークナイツ / 明日方舟




명일방주 / 明日方舟

Translation Name
Type
Strategy & gacha game
Platform
Mobile devices (iOS & Android)
Developed by
Hypergryph
Published by
Hypergryph
Longcheng
Yostar
Produced by
LowLightK
Engine
Unity3D
Mode
Multiplayer
Publication Date
April 30, 2019 (iOS)
May 1, 2019 (Android)
January 16, 2020
January 16, 2020
January 16, 2020
June 29, 2020
Arknights (Chinese: 明日方舟, Japanese: アークナイツ; Korean: Template:Lang-ko) is a strategy tower defense and gacha game developed by Hypergryph.
Introduction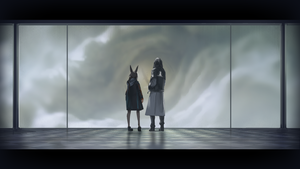 Time to set sail.
A large number of mysterious minerals - known as "Originium" - appeared on the swept land due to the natural disasters of unknown origin and raging everywhere. Although the discovery of Originium has a long history, relying on the advancement of technology, the energy contained in it has enabled civilization to enter the modern era smoothly, but at the same time, Originium itself has also spawned the existence of "infected people".
Beings of strength and misfortune, some of them are now trying to unite with the Originium and bring a new order to Earth. This conspiracy of war is a new obstacle to our fight against natural disasters.
As a member of Rhode Island, together with Amiya, the operator of Rhodes Island, you will hire people to frequently enter high-risk areas affected by natural disasters, rescue the victims, deal with ore disputes, and fight against the integration movement—
Are you ready for the tactical mind of "Rhodes Island"?
Former introduction
Arknights is a strategy tower defense and collection development game developed and published by Shanghai Hypergryph Network Technology Co., Ltd. with the theme of the end of the world and monsters. In the game, players will manage an ark full of "monster operators" and embark on a journey to investigate the source of the mysterious ore disaster. In this vast and dangerous world, you may see the ruins of cities in the wasteland, you may see a fantastical demihuman kingdom, you may encounter unexplainable mysteries, or you may participate in extremely cruel wars. Experience the epic and the imaginary, the emotions and the bonds in a world of fantasy and alien life.
Development timeline
2013

 
Producer LowLightK began developing "3.0"

2017

Jan 24
Hypergryph was founded.
Jun 1
Official Sina Wribo account created.
Aug
Early official Twitter launch.
Aug 15
The official Weibo and WeChat public accounts will announce game-related information.
Sep 08
The first game concept PV "The Prelude" was released.
Dec 01 ~ 06
Wake-up test (the first limited file deletion test).

2018

Jul 15
The official development preview was broadcast live on Bilibili.
Jul 20 ~ Aug12
Echo test (the second limited file deletion test).
Aug
Japanese official Twitter is online.

2019

Jan 07
Arknights passed the game approval of the State Administration of Press, Publication, Radio, Film and Television.
Mar 29 ~ Apr 08
Ending test (unlimited file deletion test).
Apr 27
The game concept PV2 "THE OVERTURE" was released.
The official game exchange show was broadcast live on Bilibili.
Apr 30
Officially launched for iOS[1]。
May 01
Officially launched for Android.
May
Global official Twitter account is online.
Sep
Korean official Twitter account is online.
Nov 20
Japan server game pre-order starts[2]。
Dec 26
The beta test of the Japanese server begins[3].

2020

Jan 16
The Japanese[4], Korean[5], and global[6] servers Android area and iOS area are officially launched.
Mar 12
Traditional Chinese server game reservation starts [7].
Apr 25
Arknights 1st anniversary live broadcast.
Jun 29
Traditional Chinese server Android area iOS area officially opened[8].
Jul 22
The 0.5th anniversary live broadcast of Japanese server, Korean server and international server.
Aug 09

The ancient video of pharaoh Damedane is suspected to be out.

Oct 25
Arknights 1.5th Anniversary "Thank You Celebration" was broadcast.
Dec 24
The first anniversary live broadcast of Japanese server, Korean server and international server.

2021

Apr 11
The number of views of Pharaoh's Damedane video exceeded 10 million, becoming the first single video in the history of Arknights to exceed 10 million views.
Apr 24
Arknights 2nd anniversary live broadcast.
Apr 25
The game concept promotion PV3 "THE ECHO" was released.
Jul 22
The 1.5th anniversary live broadcast of Japanese server, Korean server and international server.
Jul 25
Arknights "Summer Carnival Special Newsletter" is live broadcast, and the Chinese dubbing is used for the first time in the live broadcast.
Sep 17
The national service began to gradually implement Chinese voice.
Oct 15
"2021 Appreciation Celebration - Autumn" live broadcast on Japanese server, Korean server, and international server [9].
Oct 24
The Arknights 2.5th Anniversary Thanks Celebration was broadcast, an independent Chinese PV was released for the first time, and announced that the mainline animation production is in progress.

2022

Jan 09
The second anniversary of the Japanese server, Korean server, and international server was broadcast[10], and it is announced that English and Korean voices will be added.
Jan 15
Arknights "2022 Spring Festival Preview Special" was broadcast.
Lore
Main article: Arknights/Lore
Main article: Arknights/Races
List of Artists/Voice Actors
Main article: Arknights/Illustrators
Main article: Arknights/Voice actors
Game Content
Infrastructure
Main article: Arknights/Buildings
Main article: Arknightsw/Furniture guide
Operators
Main article: Arknights/Operators
Main article: Arknights/Operator guide
Main article: Arknights/Skins guide
Derivative Works
Media Mix
Main article: Arknights/Cross-media works
Comic expos
This column only includes official exhibitors in the name Arknights, Hypergryph/Studio Montagne, Yostar, Bilibili, and Longcheng.
Event name
Duration
Region/Country
Place
Stand number
Comicup
Comicup21
CP21
December 9 ~ December 10, 2017
Mainland China
Shanghai New International Expo Center Enterprise Pavilion E4
CPB09
Chengdu Comiday
Comiday21
CD21
April 5 ~ April 6, 2018
Mainland China
Chengdu New International Convention and Exhibition Center Hall 8
V08
Firefly Anime Game Carnival
18th Firefly Anime Game Carnival
萤火虫18th
April 29 ~ May 1, 2018
Mainland China
Guangzhou Pazhou International Sourcing Center
A29
Fusion Video Game Carnival
Fusion 2018 Video Game Carnival
核聚变2018
May 5 ~ May 6, 2018
Mainland China
Beijing Yichuang International Convention and Exhibition Center
--
Comicup
Comicup22
CP22
May 19 ~ May 20, 2018
Mainland China
Shanghai New International Expo Centre
CPA17
Firefly Anime Game Carnival
19th Firefly Anime Game Carnival
萤火虫19th
July 14 ~ July 17, 2018
Mainland China
Guangzhou Poly World Trade Expo Center
A31
Firefly Anime Game Carnival
20th Firefly Anime Game Carnival
萤火虫SH03
October 2 ~ December 4, 2018
Mainland China
Shanghai New International Expo Center Hall W2
A04
Comicup
Comicup23
CP23
December 15 ~ December 16, 2018
Mainland China
Shanghai New International Expo Center Hall N3
N3-CPB49
Comiket
Comiket 95
C95
December 29~December 31, 2018
Japan
Tokyo Big Sight
East Hall 7 NO.7411
Taipei Game Show
2020 Taipei Game Show
TGS2019
January 25~January 28, 2019
Taiwan
Taipei World Trade Exhibition Hall 1
C1008
Frontman Anime Festival
2019 Fronting Festival
FF33
February 16 ~ February 17, 2019
Taiwan
Taipei Flower Expo Park-Shenzhen Pavilion
--
Comicup
Comicup24
CP24
June 7 ~ June 8, 2019
Mainland China
Shanghai New International Expo Centre
CPA04
Wonder Festival
WonderFestival 2019 Shanghai
WF2019 Shanghai
June 8 ~ June 9, 2019
Mainland China
Hall E3, Shanghai New International Expo Center
A33 Tokyo figure
Anime Expo
Anime Expo 2019
AX2019
July 4 ~ July 7, 2019
USA
Los Angeles Convention Center
206
Firefly Anime Game Carnival
The 22nd Kugou Mushroom × Firefly Anime Music Carnival
萤火虫22th
July 18 ~ July 21, 2019
Mainland China
Guangzhou Poly World Trade Expo Hall 6
B02
Comiket
Comiket 96
C96
August 9 ~ August 12, 2019
Japan
Tokyo Big Sight
B Hall No.2352

-{Motto Animation Carnival}-

-{2019 Weimaraner TACG and Guangzhou Motto Animation Carnival}-

--
August 16~August 18, 2019
Mainland China
Guangzhou Poly World Trade Expo Hall 3
S010
Comicup
Comicup2019 Special
CP2019SP
August 24 ~ August 25, 2019
Mainland China
Shanghai Everbright Convention & Exhibition Center
CPA04
Crunchyroll Expo
Crunchyroll Expo 2019
CRX2019
August 31 ~ September 1, 2019
USA
San Jose Convention Center, California
1232
China International Comics Festival
Play Mingtang Game Expo
Guangzhou Animation and Game Festival
CICF × AGF
October 3 ~ Ocober 6, 2019
Mainland China
5E01
BilibiliWorld
BilibiliWorld 2019
BW2019
October 4 ~ October 6, 2019
Mainland China
Shanghai New International Expo Center Hall N3
3006
Chengdu Comiday
Comiday24
CD24
October 5 ~ October 6, 2019
Mainland China
Chengdu New International Convention and Exhibition Center Hall 7
V14
Comicup
Comicup25
CP25
December 21 ~ December 22, 2019
Mainland China
Shanghai New International Expo Center Hall N3
CPA45
Comiket
Comiket 97
C97
December 28 ~ December 31, 2019
Japan
Tokyo Big Sight
B Hall No.2352
Firefly Anime Game Carnival
The 23rd Kugou Mushroom × Firefly Anime Music Carnival
萤火虫23th
December 31, 2019 ~ January 2, 2020
Mainland China
Guangzhou Poly World Trade Expo Hall 5
A37
Taipei International Game Show
2020 Taipei Game Show
TGS2020
February 6, ~ February 9, 2020
Closed
Taiwan
Taipei Nangang Exhibition Center Hall 1
M608
Comicup
Comicup26
CP26
July 25 ~ July 26, 2020
Mainland China
Shanghai New International Expo Centre
CPB02
BilibiliWorld
Shanghai BilibiliWorld 2020
BW2020
August 7~August 9, 2020
Mainland China
Shanghai National Convention and Exhibition Center Hall 2.2
D020
Firefly Anime Game Carnival
24th Kugou Mushroom × Firefly Anime Game Carnival
萤火虫24th
August 21 ~ August 23, 2020
Mainland China
Guangzhou Poly World Trade Expo Hall 5-6
B03
China International Comics Festival x Animation Game Festival
Guangzhou Animation and Game Festival
CICF10
October 1 ~ October 5, 2020
Mainland China
Guangzhou Poly World Trade Expo Hall, Hall 3-6
Hall 3 3A02
Firefly Anime Game Carnival
Chengdu IGS × Firefly Anime Game Carnival
IGS × 萤火虫01st
October 2 ~ October 4, 2020
Mainland China
Chengdu West International Expo City Hall 1-5
Hall 3 3A02
Comicup
Shanghai·COMICUP27 Exhibition - Creation is Exploration
CP27
January 1~January 2, 2021
Mainland China
Shanghai New International Expo Centre
Hall W4 CPB11
BilibiliWorld
Shanghai BilibiliWorld 2021
BW2021
July 9 ~ July 11, 2021
Mainland China
Shanghai National Convention and Exhibition Center Hall 1.1+2.1+3+4.1
4.1H
Collaborations
Name
Collaborator/and product type
Collab type
Collab duration
Region/country
Akrnights & NetEase Cloud Music co-branded peripheral gift pack
明日方舟
NetEase Cloud Music (music service)
Two-way
June 20~July 29, 2019
Mainland China
"KFC" limited time collab
明日方舟
KFC (fast food)
Two-way
November 4~December 15, 2019
Mainland China
popular anti-internet fraud cartoon "Chen Sir's Workday"
明日方舟
Shanghai Police Station
One-way
From December 12, 2019 on
Mainland China
Arknights x Atré Aknihabara

アークナイツ

Atré Akihabara (store)
One-way
February 1~February 14, 2020
Japan
WWF Joint Public Welfare Activity "Symbiosis of All Kinds"
明日方舟
WWF (World Wildlife Fund)
OPF (One Planet Foundation)
Two-way
March 3~March 17, 2020
Mainland China
"Break Time" Nissin Rawang Collab Activity
明日方舟
Nissin (instant noodles)
One-way
March 23~March 28, 2020
Mainland China
"Daily Supply Station" Arknights x Lawson Limited Time Event
明日方舟
Lawson China (convenience stores)
Two-way
April 26 ~ May 10, 2020
Mainland China
LAWSON Tie-up Campaign

アークナイツ

Lawson (convenience stores)
Two-way
September 1 ~ September 14, 2020
Japan
Arknights × Yi Shishan Floating Industrial Series Clothing
明日方舟
Yi Shi Shan (clothing)
Two-way
From November 11, 2020 on
Mainland China
Galaxy Arknights Illustration Contest

アークナイツ

Samsung (mobile phones))
One-way
December 25, 2020 ~ February 14, 2021
Japan
"Thai Express" Arknights China Merchants Bank Co-branded Savings Card
明日方舟
China Merchants Bank
Two-way
December 28, 2020 ~ October 30, 2021
Mainland China

NEW ERA│アークナイツ 限定コラボキャップ

Arknights
NEW ERA (clothing)
One-way
From January 16, 2021 on
Japan
Akrnights x Rainbow Six Siege "Operation Originium Dust"Limited Time Event
Arknights
Ubisoft (game company)
One Way
March 9~March 23, 2021
Mainland China

アークナイツ × セイコー

アークナイツ

SEIKO (watches)
单向
2021年
4月23日起
Japan
Akrnights × I.T
Akrnights
I.T (clothing)
two-way
2021年
4月25日 ~ 5月25日
Mainland China

WWFコラボチャリティーイベント「万類共生」


Arknights × WWF Joint Charity Event : Coexistence

アークナイツ


Arknights
WWF (World Wildlife Fund)
One-way
2021年
5月19日 ~ 6月 2日
Japan, Korea, International server regions
Arknights x U-TREASURE
Arknights
U-TREASURE(首饰品)
单向
2021年
2022年 2月24日 ~ 3月22日
7月22日 ~ 8月18日
Japan
Arknights × Rainbow Six: Siege - Operation Originium Dust

アークナイツ


Arknights
Ubisoft
One-way
2021年
8月18日 ~ 9月 1日
Japan, Korea, Gloabl server regions
Arknights × audio-technica
明日方舟
audio-technica (Headphones)
One-way
2021年11月
4日起
Mainland China
Tomorrow's Ark × Shanghai Transportation Union Card
明日方舟
Shanghai Transpoetation
单向
2021年11月11日起
中国大陆

アークナイツ × I.T

[11]

アークナイツ

I.T (clothing)
单向
2021年12月
9日 ~ 12月23日
日本、韩国、国际服地区
Cytus II × Akrnights
Cytus II (game)
明日方舟
单向
2021年12月16日起
Worldwide
明日方舟 × 九色鹿"吉兆呈祥"限时登录活动
明日方舟
Shanghai Fine Arts Film Studio
单向
2022年
1月10日 ~ 1月20日
中国大陆

アークナイツ × こうぶつヲカシ 琥珀糖コラボ

アークナイツ

こうぶつヲカシ

(糖果)
单向
2022年
1月16日 ~ 1月31日
日本

アークナイツ × Village Vanguard

アークナイツ

Village Vanguard(书店)
单向
2022年
1月21日 ~ 2月22日
日本
Related Media Works
Game Concept Promotion Videos
Game Concept PV
Basic gameplay introduction
Gameplay Introduction
Voice actor video data
CV Video Data
Event promotion PV
Official songs
Main article: Arknights/Cross-media#Music
Evaluation
Awards
Awards
Category
Result
2020
2019 TapTap Game of the Year Awards
Best Game
Won
Most Influential Domestic Game
Won
Most Popular Game
Won
2019 Bilibili Game Zone Annual Inventory
Top Rated Award
Won
Most Searched
Won
User's Favorite Mobile Game Award
Won
Google Play Best of 2020
Best Innovative Game Award
Won
2022
2021 Bilibili Game Awards
Best Mobile Game Collaboration Award
(Arknights × Rainbow Six: Siege)
Won
References
External links