Comic Market
Moegirlpedia would welcome your assistance in improving this article☆Kira~

As you read this article, you're welcome to participate in editing this page. Before editing, please read the wiki quickstart, edit guidelines and retrieve relevant information.

We wish you a good time on Moegirlpedia.
Template:Event Infobox Comic Market, also abbreviated as Comiket (コミケ) or CM, is the largest doujinshi instant sale held in Japan and even in the world. It started in 1975 and is held twice a year.
The main operating form of the exhibition is the sale and display of animation, comics, games, novels, and surrounding self-financed publications.
Participants are composed of three groups of planners, readers and ordinary participants, which played a vital role in the promotion of fanzine activities.
Background
Venues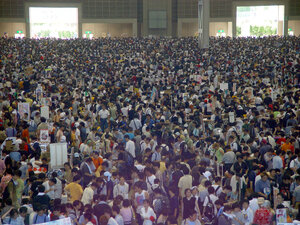 The first Comic Market was held in the meeting room of the Japan Fire Fighting Association. Since then, most of the venues will be held in various exhibition halls in Tokyo, and it has been basically determined to be held in Harumi, Tokyo since 1981 (there are also several different venues).
Since 1996, the venue has moved to the Tokyo Big Sight, which was just built at the time, and it has been held there until now.
The organizers of Comic Market did not set up a stage because of the crowds gathering on the stage and causing blockage.
Number
Year
Month and Day
Exhibition Works
Tourists
Venue
1
1975
12.21
32
700
This Fire Fighting Hall
2
1976
4.4
39
550
Panqiao Industrial Union Hall
3
7.25
56
500
4
12.19
80
700
5
1977
4.10
94
1,300
Ota District Industry Hall
6
7.30-31
100
2,000
7
12.18
131
2,500
8
1978
4.2
144
2,000
CS1
5.6
Unknown
250
Yutani Public Hall
9
7.29-30
200
3,000
–
11.15
Unknown
Unknown
Hitotsubashi University
10
12.17
200
3,000
Datian City Industrial Building
11
1979
4.8
218
3,000
12
7.28-29
330
4,000
Tokyo Metropolitan Commerce, Industry and Trade Center
13
12.23
290
4,000
Datian City Industrial Building
14
1980
5.11
380
6,000
Kawasaki Civic Plaza
15
9.14
340
7,000
16
12.14
340
7,000
17
1981
4.5
400
8,000
18
8.15-16
512
10,000
Yokohama Office of Industry and Trade
19
12.20
600
9,000
Tokyo International Conference Hall
20
1982
3.21
780
9,000
21
8.8
970
10,000
22
12.26
1,060
8,000
23
1983
4.3
1,200
13,000
t24
8.7
1,500
18,000
25
12.25
1,550
25,000
26
1984
8.19
2,400
30,000
27
12.23
2,300
25,000
28
1985
8.11
3,450
30,000
29
12.29
4,000
30,000
30
1986
8.10
3,900
35,000
31
12.27-28
4,400
40,000
Tokyo Distribution Center
32
1987
8.8-9
4,400
60,000
33
12.26-27
4,400
55,000
34
1988
8.13-14
9,200
70,000
Tokyo International Conference Hall
35
1989
3.25-26
8,900
70,000
36
8.13-14
10,000
100,000
37
12.23-24
11,000
120,000
Makuhari Messe
38
1990
8.18-19
13,000
230,000
39
12.23-24
13,000
250,000
40
1991
8.16-17
11,000
200,000
Tokyo International Conference Hall
41
12.29-30
14,000
200,000
42
1992
8.15-16
12,000
250,000
43
12.29-30
15,000
180,000
44
1993
8.15-16
15,000
250,000
45
12.29-30
16,000
200,000
46
1994
8.7-8
16,000
240,000
47
12.29-30
16,000
200,000
48
1995
8.18-20
22,000
250,000
49
12.29-30
16,000
220,000
CS2
1996
3.17
1,300
8,000
50
8.3-4
18,000
350,000
Tokyo International Conference Hall
51
12.28-29
22,000
220,000
52
1997
8.15-17
33,000
400,000
53
12.28-29
22,000
300,000
54
1998
8.14-16
33,000
380,000
55
12.29-30
23,000
300,000
56
1999
8.13-15
35,000
400,000
57
12.24-26
25,000
320,000
CS3
2000
8.13-15
200
1,500
Okinawa Convention Center
58
8.11-13
35,000
430,000
Tokyo Big Sight International Exhibition Center
59
12.29-30
23,000
300,000
60
2001
8.10-12
35,000
480,000
61
12.29-31
23,000
360,000
62
2002
8.9-11
35,000
480,000
63
12.28-30
35,000
450,000
64
2003
8.15-17
35,000
460,000
65
12.28-30
35,000
420,000
66
2004
8.15-17
35,000
510,000
67
12.28-30
23,000
370,000
CS4
2005
3.21
3,400
50,000
68
8.12-14
35,000
480,000
69
12.29-30
23,000
350,000
70
2006
8.11-13
35,000
430,000
71
12.29-31
35,000
440,000
72
2007
8.17-19
35,000
550,000
73
12.29-31
35,000
500,000
74
2008
8.15-17
35,000
550,000
75
12.28-30
35,000
510,000
76
2009
8.14-16
35,000
560,000
77
12.29-31
35,000
510,000
CS5
2010
8.14-16
1,500
33,000
Isejinizumicho North Building (formerly Keisei Department Store)
78
8.13-15
35,000
560,000
Tokyo Big Sight
79
12.29-31
35,000
520,000
80
2011
8.12-14
35,000
540,000
81
12.29-31
35,000
500,000
82
2012
8.10-12
35,000
560,000
83
12.29-31
35,000
550,000
84
2013
8.10-12
35,000
590,000
85
12.29-31
35,000
520,000
86
2014
8.15-17
35,000
550,000
87
12.28-30
35,000
560,000
CS6
2015
3.28-29
5,200
50,000
Makuhari Messe
88
8.14-16
35,000
550,000
Tokyo Big Sight
89
12.29-31
35,000
520,000
90
2016
8.12-14
34,000
530,000
91
12.29-31
36,000
550,000
92
2017
8.11-13
32,000
500,000
93
12.29-31
32,000
550,000
94
2018
8.10-12
35,000
530,000
95
12.29-31
96
2019
8.9-12
Tokyo Big Sight & Harumi Exhibition Hall
97
12.28-31
98
2020
5.2-5[1]

Cancelled

[2]
Held online in the form of "Air Comiket" (

エアコミケ

) on May 2-5
99
Winter
Held online in the form of "Air Comiket 2" on December 30-31
2021
5.2-5

Postponed

[3]
12.30-31[4]
165,000
Tokyo Big Sight