First Storm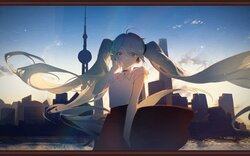 Illustration by Rella
Title
初嵐 ~First Storm~




初岚 ~First Storm~


Romaji: Hatsuarashi ~First Storm~
Pinyin: Chūlán ~First Storm~
English: First Storm
Uploaded on August 31, 2017
230,000+ on Nicovideo, 1,000,000+ on YouTube, 453,800+ on Bilibili
Singer
Hatsune Miku (Chinese)
Producer(s)
DECO*27 (composer, lyricist)
Rockwell (arranger)
Mes (lyrics translator)
Link(s)
Nicovideo
Bilibili
Youtube
This song is a demo song for Miku's V4 Chinese voicebank.
Lyrics

The data or lyrics of this article are copyrighted by the respective owner, and are quoted for the purpose of introduction only.
I can't forget these dropped tears
I remember the beauty of that simile
What color roses were in your sight?
The time begins to fly again
Just at this moment, I opened my heart and sang
Here's a home for you in my heart,
I'll accompany you forever
(Don't keep it, just give it out)
All of your uneasiness and bigotry
(unlock your chains, don't hesitate)
Clear all the clouds and fog, and make a rainstorm
Listen to these cries and help-needed in your heart
Walk ahead towards the shining dream
ARIGATOU! (Thanks a lot!)
You and I walk ahead together!