Gempak Starz
新しい物語をつくろう。

Let's create a new story.

Moegirlpedia welcomes you to participate in improving this KADOKAWA-related article.

You, the person reading this, are welcome to help improve this article. Before editing, please read the

Wiki quickstart

and

guidelines

.

We wish you a happy time editing on Moegirlpedia.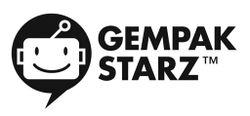 Kadokawa Gempak Starz, or simply Gempak Starz, is a Malaysian comic book and manga publisher owned by the Japanese company Kadokawa. Founded in 1994 as Art Square Creation, the publisher was originally home to Gempak, Malaysia's first "info-comic" magazine. Gempak made waves in Malaysia, giving a spotlight to local artists and cartoonists.
Gempak Starz was acquired by Kadokawa in 2015.
Series published
Lawak Kampus by Keith
Utopia High by Slaiom
X-Venture by Oga
Maid Maiden by Kaoru
3 Hours to Master by Michael Chuah
Candy by Kaoru
External links