Here Comes the Three Angels
Moegirlpedia would welcome your assistance in improving this article☆Kira~

As you read this article, you're welcome to participate in editing this page. Before editing, please read the wiki quickstart, edit guidelines and retrieve relevant information.

We wish you a good time on Moegirlpedia.


Base Info
Original Name

天使の3P!

Translation Name
Here Comes the Three Angels
Tenshi no 3P!
Original Work Format
Light novel
Original Work Writer
Sagu Aoyama (writer)
Tinkle (illustrator)
Adapted Format
Comic, anime
Here Comes the Three Angels (Japanese:天使の3P!) is a light novel written by Sagu Aoyama and illustrated by Tinkle, and has derivative works.
Original Work Info
Plot
Characters
Kyō Nukui (Japanese:

貫井響

)

CV: Yūki Inoue

Jun Gotō (Japanese:

五島潤

)

CV: Yuko Ono

Nozomi Momijidani (Japanese:

紅葉谷希美

)

CV: Yurika Endō

Sora Kaneshiro (Japanese:

金城そら

)

CV: Aoi Koga

Kurumi Nukui (Japanese:

貫井くるみ

)

CV: Rina Hidaka

Sakura Toriumi (Japanese:

鳥海桜花

)

CV: Kanae Itō

Masayoshi Sawatari (Japanese:

佐渡正義

)

CV: Toru Ohkawa

Kōme Ogi (Japanese:

尾城小梅

)

CV: Kana Hanazawa

Yuzuha Aigae (Japanese:

相ヶ江柚葉

)

CV: Yuka Iguchi
Publishing info
Derivative Work
Comic
Anime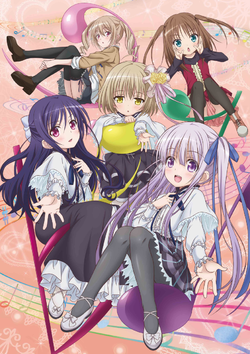 STAFF
Episode list
Episode
Japanese Title
English Title
Script
Storyboard
Enshutsu
Animation Director
General Animation Director
#01

小学生にドッキリ!

Heart Throbbing for Elementary School Kids!
Go Zappa
Shinsuke Yanagi
篠崎康行
松尾真彦
渡边奏
Takayuki Noguchi
#02

いっしょにやりたい気持ち

A Desire to Do It Together
岩田和也
藏本穗高
森出刚
藤泽俊幸
佐藤麻里那
渡边奏
#03

停滞する少年の下降と逃走、そして教会から来た少女達

The Boy on Hiatus Descends and Flees, and the Girls from the Church
川西泰二
Linked music
OP
羽ばたきのバースデイ

Sung by: Baby's breath (Jun Gotō (CV: Yuko Ono), Nozomi Momijidani (CV: Yurika Endō), Sora Kaneshiro (CV: Aoi Koga))
ED
楔

Sung by: Baby's breath (Jun Gotō (CV: Yuko Ono), Nozomi Momijidani (CV: Yurika Endō), Sora Kaneshiro (CV: Aoi Koga))
Lyricist: Erika Masaki, composer, arranger:本多友纪
IN
深海プリズナー

(ep. 1)

Sung by: Jun Gotō (CV: Yuko Ono), Nozomi Momijidani (CV: Yurika Endō), Sora Kaneshiro (CV: Aoi Koga)
Lyricist: Erika Masaki, composer, arranger:高田晓

深海プリズナー(ボーカルソフトアレンジ)

(ep. 1)

Sung by: Vocal Soft Onsei (CV:Yui Ogura)
Lyricist: Erika Masaki, composer, arranger:高田晓