Kemono Friends:Raccoon dog
Moegirlpedia welcomes your assistance to complete this article☆Kira~

As you read this article, we hope you participate in improving this page.
Before editing, please read wiki introduction, rules of article editing (in Chinese, welcome translation) and retrieve relevant information.


We wish you have a good time in Moegirlpedia.
Raccoon dog(Japanese: タヌキ) is a character from the mediamix project named Kemono Friends and its derivative works initiated by the Kemono Friends Project.
Self-Introduction
Order carnivora, family canidae, I'm Raccoon Dog.
Uh, uhm, Raccoon Dog spends her life forever with the partner she has chosen...
Ah, that's why, uhm... ... You understand what I mean right? You understand right?
Nexon Game
Stats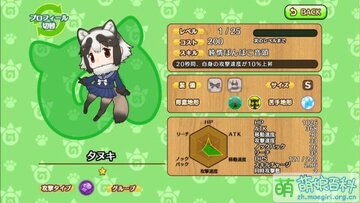 Home Lines
| Japanese | English |
| --- | --- |
| えっ……今日は一緒にいてくれるの?やっぱりあなたもタヌキのこと……嬉しいな | Eh ... are you going to be with me today? Just as me expected, you are a Raccoon dog……I'm so happy. |
| えっと趣味は……あなたが好きなものを好きになりたいな | My hobby is……loving what you like. |
| どっちかって言うと夜の方が好きかな。あなたがいるなら昼も頑張って起きるけど…… | I think I'd rather be up at night. But I'd do my best to get up during the day if you were here. |
| 一緒にいるだけでタヌキにはご褒美……これからもずっと一緒だよね?ね? | (Waiting for transtale) |
| もうあなたって決めちゃったから。だから、その……私の気持ち……伝わってる? | I've already decided it's going to be you. So, you know……what I'm saying……is do you feel the same way? |
| だ、大好き……大好きだよっ!「OO」はもうずっと、ずっと一緒、一生離れないよ…… | (Waiting for transtale) |
Kemono Friends3
Initial stars:four
How to get:draw
External links and references