Rigël Theatre
Moegirlpedia would welcome your assistance in improving this article☆Kira~

Improvements can be made in the following areas:

The information on this wiki page needs to be updated, and the existing information may not be the latest.

As you read this article, you're welcome to participate in editing this page. Before editing, please read the wiki quickstart, edit guidelines and retrieve relevant information.

We wish you a good time on Moegirlpedia.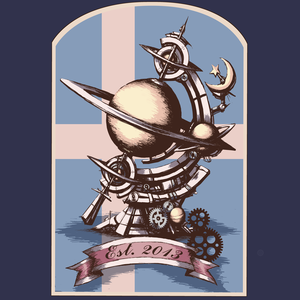 Name

Rigël Theatre
Real name

Kouichi Inoue
Other names

Inoue Delta (

井上⊿

)
Country

Tokyo, Japan
Active time

Grand Thaw: 2002 year ~ 2013 year
Rigël Theatre: 2013 year ~ now
Rigël Theatre is a music producer, and is famous for extremely gorgeous, Japanish fantastic, Celtic ethnic music style.
Biography
Grand Thaw period
Grand Thaw is a BMS production group, by careless (BMS making), Inoue Delta (music composing), and Little Egret (illustration). It has now been disbanded.
Rigël Theatre period
But there are too many remaster works.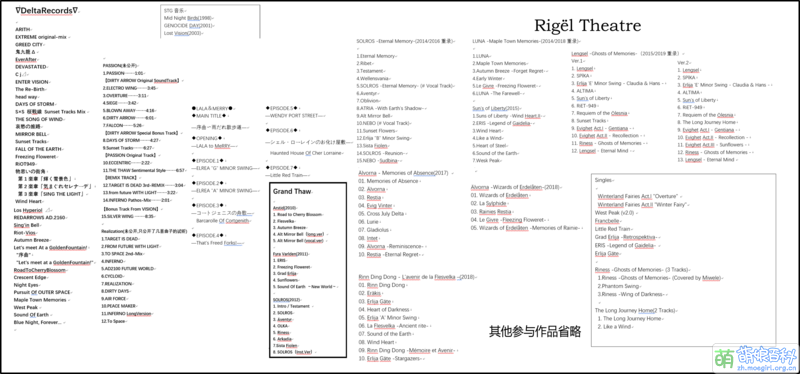 Grand Thaw period works
Årstid
Album website: http://deltacity.sakura.ne.jp:80/arstid/arstid.html
Fyra Varlden
Album website: http://deltacity.sakura.ne.jp:80/fyravarlden/fyravarlden.html
SOLROS
Album website: http://deltacity.sakura.ne.jp/solros/solros.html
Single (not included in albums)
(todo)
Rigël Theatre period works
(The official website has related novels of the albums, the same below)
SOLROS -Eternal Memory-
Album website: http://www.rigeltheatre.com/solros/solros_em.html
Introduction: (todo, welcome Japanese speaker to translate, the same below)
Release date: April 27, 2014
Track List:
Eternal Memory
Ribet
Testament
Wellensvania
SOLROS -Eternal Memory- (# Vocal Track)
Äventyr
Oblivion
ATRIA -With Earth's Shadow-
Alt Mirror Bell
NEBO (# Vocal Track)
Sunset Flowers
Erlija "B" Minor Swing
Sista Fiolen
SOLROS -Reunion-
NEBO -Sudbina- (Note: November 2016, version 2 added, off vocal version)
New / Track.1.2.4.8.10.12.15
Remake / Track.5.6.11.13.14
Remaster / Track.3.7.9
Recap-Ver.1 / Track.1-4-8-10-11-13
Recap-Ver.2 / Track.5-6-9-12-14
LUNA -Maple Town Memories-
Album website: http://www.rigeltheatre.com/luna/luna_index.html
Introduction: (todo)
Release date: October 26, 2014
Track List:
LUNA
Maple Town Memories
Autumn Breeze -Forget Regret-
Early Winter
Le Givre -Freezing Floweret-
LUNA -The Farewell-
New / Track.1.4.6
Remake / Track.2.3.5
Sun's of Liberty
Album website: http://www.rigeltheatre.com/sunsofliberty/solbty_index.html
Introduction: (todo)
Release date: August 16, 2015
Track List:
Suns of Liberty -Wind Heart.II-
ERIS -Legend of Gaidelia-
Wind Heart
Like a Wind
Heart of Steel
Sound of the Earth
Wesk Peak
New / Track.1
Remake / Track.2-7
Single (not included in albums)
(todo)
Participating in other groups
(todo)
External links
---