Kemono Friends:Dhole
Moegirlpedia welcomes your assistance to complete this article☆Kira~

As you read this article, we hope you participate in improving this page.
Before editing, please read wiki introduction, rules of article editing (in Chinese, welcome translation) and retrieve relevant information.


We wish you have a good time in Moegirlpedia.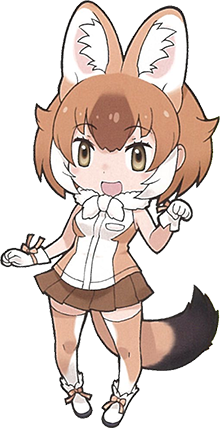 Dhole(Japanese: ドール) is a character from the mediamix project named Kemono Friends and its derivative works initiated by the Kemono Friends Project.
Nexon Game
Self-Introduction
Oh no, you found me! For founding me who's being called the demon of hide-and-seek, Dhole, It's quite a feat!... ... I'm kidding you. accompanying Hokkaido Wolf playing is a bit much for both of us. Well, you lose if you don't enjoy it!
Alright, it's anytime now Hokkaido Wolf will going to put herself into trouble so I'll follow her okay? Bye~Bye~
Stats
New Design
Self-Introduction
Hi, today too the energetic Dhole! I have interest in many things so I go here and there exploring, eating various foods and because park is vast I want to experience many things. I really like to play but I have to study too... ... Ah, I must practice team play also. I want to treasure my bond with my friends.
Kemono Friends3
Initial stars:one
How to get:after regist
External links and references