Machine Gun
This article was originally from page

Machine Gun

in

Chinese Moegirlpedia

, and the license might be different from English Moegirlpedia. The contents might differ after being modified by different users on both sides. For more information, see

Moegirlpedia:Copyrights

.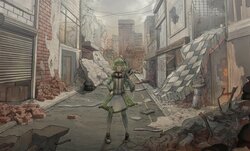 illustration by Ekkoberry
Title
Machine Gun
Uploaded on September 21, 2018
7,247,918+ on YouTube, 124,700+ on Nicovideo
Singer
GUMI
Producer(s)
KIRA
Link(s)
Nicovideo
Youtube
Introduction
Machine Gun is an original English song of VOCALOID uploaded by KIRA to YouTube on September 21, 2018, sung by GUMI. Later, it was uploaded to Niconico on June 1, 2019. It has millions of views on YouTube.
Lyrics
| | |
| --- | --- |
| | The lyrics in this paragraph, the copyright belongs to the original copyright owner, quoted for the purpose of introduction only. |
Let's get
A little bit dirty
A little bit nasty
A little bit gross
Come on
It's never too early
I need to kick badly
I'm ready to go

Can't help it
Guess it's a habit
Guess it's for fun
It's just what I do
Come on now
Don't you get nervous

All the people
All the people
Say

Unbelievable
It'll hit ya before you know it baby
All the people know
All the people know

I am not afraid
To cause a scene
Tonight
I'll show ya
By now you should know
I do it all the time
And it's gonna be

Dangerous
If you get in my way
Cuz I never stop
Till I get my way
Yeah
I am on top now
Killing non stop yeah
When I come through like come
through like come through like a
Ma-ma-machine gun

RRRA TTA TA TA RRA TTA TA TTA TA
RRRA TTA TA TA RRA TTA TA TTA TA
RRRA TTA TA TA RRA TTA TA TTA TA
RRRA TTA TA TA RRA TTA TA TTA TA

Baby
We're just getting started
Turn this shxt up and
Blow up the place
Come on now
Don't try to hide 'cuz
You can run
But nobody survives

Unbelievable
It'll hit ya before you know it baby
All the people know
All the people know

I am not afraid
To cause a scene
Tonight
I'll show ya
By now you should know
I do it all the time
And it's gonna be

Dangerous
If you get in my way
Cuz I never stop
Till I get my way
Yeah
I am on top now
Killing non stop yeah
When I come through like come
through like come through like a
Ma-ma-machine gun

RRRA TTA TA TA RRA TTA TA TTA TA
RRRA TTA TA TA RRA TTA TA TTA TA
RRRA TTA TA TA RRA TTA TA TTA TA
RRRA TTA TA TA RRA TTA TA TTA TA

I'm coming for ya
Coming for ya
RRRA TTA TA TA RRA TTA TA TTA TA
I'm coming for ya
Coming for ya
RRRA TTA TA TA RRA TTA TA TTA TA

Baby
I told ya
I am the best
I'll show ya
I'm crazy
A monster
And when I'm done
You'll need a doctor
It's G to the U to the M to the I
No one's gonna wanna hear you cry
Any last words? Just say goodbye
I'm gonna go-go off tonight

RRRA TTA TA TA RRA TTA TA TTA TA
RRRA TTA TA TA RRA TTA TA TTA TA
RRRA TTA TA TA RRA TTA TA TTA TA
RRRA TTA TA TA RRA TTA TA TTA TA

I'm coming for ya
Coming for ya
RRRA TTA TA TA RRA TTA TA TTA TA
I'm coming for ya
Coming for ya
RRRA TTA TA TA RRA TTA TA TTA TA