Grimoire of Zero
Moegirlpedia would welcome your assistance in improving this article☆Kira~

As you read this article, you're welcome to participate in editing this page. Before editing, please read the wiki quickstart, edit guidelines and retrieve relevant information.

We wish you a good time on Moegirlpedia.

Volume 1 Cover
Base Info
Original Name

ゼロから始める魔法の書

Translation Name
Grimoire of Zero
Starting the Magical Book from Zero
Mahōshōjo Shimakaze
Original Work Format
Light novel
Original Work Writer
Kakeru Kobashiri
Adapted Format
Comic, anime, game
Linked Works
Re:Life in a different world from zero[1]
Grimoire of Zero (Japanese:ゼロから始める魔法の書) is a light novel written by Kakeru Kobashiri, and has derivative works.
Original Work Info
The light novel is written by Kakeru Kobashiri and illustrated by Yoshinori Shizuma.
Plot
In the year 526, the Kyōkaireki —
There are witches and majutsu in the world, but the mahō is not widely known.
Characters
Zero (Japanese:

ゼロ

)

CV: Yumiri Hanamori (TV)/Karin Takahashi (Game Dengeki Bunko FIGHTING CLIMAX IGNITION)
A witch who is searching for the Book of Zero and knows little about the world

Mercenary (Japanese:

傭兵

)

CV: Tsuyoshi Koyama, Emiko Takeuchi(young)
A Beastfallen mercenary who protects Zero

Albus (Japanese:

アルバス

)

CV: Yō Taichi
A young magician who shows up for Mercenary's head

Holdem (Japanese:

ホルデム

)

CV: Masayuki Katou

Thirteen (Japanese:

十三番

)

CV: Takehito Koyasu

Sorena (Japanese:

ソーレナ

)

CV: Yoshiko Sakakibara
Publishing info
Volume
Cover
Title
Title Translation

rōmaji

Release Date
ISBN
1

ゼロから始める魔法の書

Zero kara Hajimeru Mahō no Sho
February 8, 2014
ISBN 978-4048663120
2

ゼロから始める魔法の書II アクディオスの聖女〈上〉

Akudiosu no Seijo (Jō)
November 8, 2014
ISBN 978-4048666497
3

ゼロから始める魔法の書III アクディオスの聖女〈下〉

Akudiosu no Seijo (Ge)
February 8, 2015
ISBN 978-4048692564
4

ゼロから始める魔法の書IV 黒竜島の魔姫

Kokuryū Tō no Maki
August 8, 2015
ISBN 978-4048653060
5

ゼロから始める魔法の書V 楽園の墓守

Rakuen no Hakamori
December 10, 2015
ISBN 978-4048655651
6

ゼロから始める魔法の書VI 詠月の魔女〈上〉

Yomitsuki no Majo (Jō)
April 9, 2016
ISBN 978-4048659130
7

ゼロから始める魔法の書VII 詠月の魔女〈下〉

Yomitsuki no Majo (Ge)
August 10, 2016
ISBN 978-4048922760
8

ゼロから始める魔法の書VIII 禁書館の司書

Kinshokan no Shisho
December 10, 2016
ISBN 978-4048925396
9

ゼロから始める魔法の書IX ゼロの傭兵〈上〉

Zero no Youhei (Jō)
April 8, 2017
ISBN 978-4048928243
Derivative Works
Comic
The comic is drawn by Takashi Iwasaki, and it has been serialized in Monthly Comic Dengeki Daioh since July 2014.
Anime
The anime is made by WHITE FOX.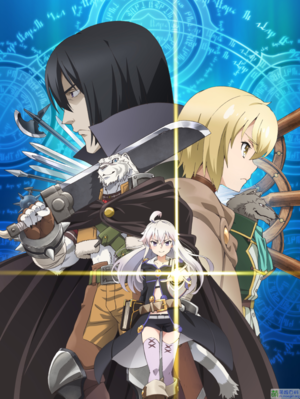 STAFF
Original Work Writer: Kakeru Kobashiri (imprinted ny Dengeki Bunko)
Original Character Design: Yoshinori Shizuma
Director: Tetsuo Hirakawa
Character Design, General Animation Director: Ryosuke Kimiya, Daisuke Mataga
Imageboard: Hiroki Shinagawa
Prop Design: Goichi Iwahata, Noritaka Suzuki
Art Director: Yoshito Takamine (Bihō)
Art Setting: Kaoru Aoki (Bihō)
Color design: Miyuki Sato (Wish)
Special Effects Supervisor: Kumiko Taniguchi (Team Taniguchi)
3D Director: Kōtarō Shishido (IKIF+)
Director of Photography: Nozomi Shitara (T2 studio)
Editing: Hitomi Sudō (REAL-T)
Sound Director: Noboru Haraguchi
Sound Production: HALF H·P STUDIO
Music: Akito Matsuda
Music Production: Lantis
Production: Infinite
Anime Production: WHITE FOX
Episode list
Episode
Japanese Title
English Title
Script
Storyboard
Enshutsu
Animation Director
General Animation Director
1

魔女と獣堕ち

The Witch and the Beastfallen
Tetsuo Hirakawa
Ryosuke Kimiya
Daisuke Mataga
-
2

魔女狩り

Witch Hunting
Tetsuo Hirakawa
Hiroyuki Tsuchiya
Takashi Nagayoshi
Yaeko Watanabe
Naoki Hiramura
Ryosuke Kimiya
Daisuke Mataga
Ryosuke Kimiya
Daisuke Mataga
3

決闘

Duel
Tatsuya Takahashi
Kenichi Kawamura
Yoshito Mikamo
Masahiko Nakata
Mai Toda
Masakazu Saito
Hideaki Aizawa
4

ラテットへの道中

The Road to Lattete
Eiji Umehara
Kazuhiro Ozawa
Takashi Okawara
Tomoshige Inayoshi
Asako Inayoshi
Naoki Hiramura
Toshihiro Kawakami
5

ゼロの魔術師団

The Sorcerers of Zero
Tetsuo Hirakawa
Masayuki Sakoi
Naoko Takeichi
Kazuhisa Nakamura
Miyuki Nakayama
Nanako Ninomiya
6

十三番

Thirteen
Tatsuya Takahashi
Takaharu Ozaki
Kenichi Kawamura
Hiroyuki Tsuchiya
Takashi Nagayoshi
Yaeko Watanabe
7

王都プラスタ

Plasta, The Royal Capital
Eiji Umehara
Shūhei Matsushita
Tomoshige Inayoshi
Kazuhisa Nakamura
Kyuta Sakai
Norie Igawa
Ryosuke Kimiya
Daisuke Mataga
8

ソーレナの孫娘

Sorena's Granddaughter
Tetsuo Hirakawa
Daisuke Tokudo
Masahiko Nakata
Asuka Mamezuka
Tomoshige Inayoshi
Asako Inayoshi
Hideaki Aizawa
Takashi Nagayoshi
Daisuke Mataga
Ryosuke Kimiya
Kyuta Sakai
9

再会

Reunion
Akira Suzufuji
Kotaro Tamura
Takashi Okawara
Kyuta Sakai
Asuka Mamezuka
Tomoshige Inayoshi
Asako Inayoshi
Daisuke Mataga
Ryosuke Kimiya
Naoki Hiramura
10

明かされた真相

The Truth Revealed
Tatsuya Takahashi
Kazuhiro Ozawa
Yoshito Mikamo
Takashi Nagayoshi
Yaeko Watanabe
Kazuhisa Nakamura
11

魔女と魔術師

The Witch and The Sorcerer
Eiji Umehara
Masayuki Sakoi
Baito Akai
Asuka Mamezuka
Norie Igawa
Takashi Nagayoshi
Yaeko Watanabe
Masahiko Nakata
Naoki Hiramura
Natsuki Umino
Kaoru Maehara
Ryosuke Kimiya
Daisuke Mataga
12

ゼロから始める魔法の書

The Grimoire of Zero
Tetsuo Hirakawa
Eiji Umehara
Tetsuo Hirakawa
Naoko Takeichi
Kenichi Kawamura
Masahiko Nakata
Asuka Mamezuka
Yaeko Watanabe
Takashi Nagayoshi
Norie Igawa
Asako Inayoshi
Naoki Hiramura
Hideaki Aizawa
Natsuki Umino
Ryosuke Kimiya
Daisuke Mataga
Linked music
OP
発見者はワタシ

Sung by:

たぴみる

Lyricist: Sissi Otori ,Composer, arranger: Takayuki Ishikura
Not used in Episode 1.
ED
はじまりのしるし

Sung by: Chima
Lyricist, composer: Chima, Arranger:

山口彰久
Game
The magic command battle game Grimoire of Zero (Japanese: ゼロから始める魔法の書) on iOS/Android is developed by NOW PRODUCTION and operated by GREE, it was released on May 23, 2017. The game requires over iOS 8.0 or over Android 4.3.
Notes
↑ There is "

ゼロから始める

" in the both titles, and the both are made into animes by WHITE FOX.
External links