User:LiaMinina/Congcong, Lianlian and Chenchen
Moegirlpedia would welcome your assistance in improving this article☆Kira~

As you read this article, you're welcome to participate in editing this page. Before editing, please read the wiki quickstart, edit guidelines and retrieve relevant information.

We wish you a good time on Moegirlpedia.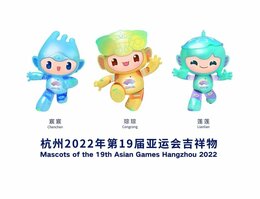 Congcong (琮琮), Lianlian (莲莲) and Chenchen (宸宸) are the official mascots of the Hangzhou 2022 Asian Games. Collectively, they are known as "Memories of Jiangnan" (江南忆).
Introduction
In 2019, the Olympic Council of Asia launched a global competition to design the mascots for the 2022 Asian Games, which would take place in the City of Hangzhou, China.[1]The final designs were approved by the Olympic Council of Asia on January 13, 2020, and the mascots where officially introduced on April 3, 2020.[2]
The mascots were designed by Zhang Wen and Yang Hongyi.[3] The three are robots, whose designs are influenced by a mix of tradition and modernity. The official designs of the mascots practicing sports was unveiled on 2021.[4]
The three robots represent landscapes of the city of Hangzhou:
Congcong represents the Ruins of Liangzhu City, a World Heritage site in Hangzhou, and named after the Cong jade pendant. Its yellow color symbolizes Earth.
Lianlian represents the West Lake, its name comes from the expression "Lianlian" (莲莲), which means "a lake full of lotus leaves". Its color is green, and it symbolizes life and nature.
Chenchen represents the Beijing-Hangzhou Grand Canal, and is named after the Congchen Bridge. Its blue color represents science and technology.
References