Mega Man X
Mega Man X


Original Name
Rockman X
(

ロックマンX

)
Translation Name
Mega Man X
Platform
SNES
PC
Android
iOS
Virtual Console
Developed by
Capcom
Published by
Capcom
Publication Date
December 17, 1993 (Japan)
Mega Man X is an action/platformer video game developed by Capcom for the Super Nintendo Entertainment System in 1993. It is the first of the Mega Man X series.
Plot
The game takes place 100 years after the original series. Archaeologist Dr. Cain finds the ruins of Dr. Light's lab, and inside, he finds a capsule with a robot named "X". Dr. Light had programmed him with the ability of thinking for himself, but Light feared that he was too dangerous and sealed X until the tests that he made on him were completed. Hearing the warning, Cain had released X from the capsule, and then, using the model of X, stared creating and developing more of these robots with free will; they were called "Reploids". However, some of these "Reploids" started going rogue, and committed crimes. These were called "Mavericks"; and when the number of Reploids increased, so did the number of Maverick crimes.
A special organization called "Maverick Hunters" was established by the government, in order to capture the Mavericks and stop them from causing any more trouble. At the time, X had joined the Maverick Hunters, forming a part of the 17th Division which was headed by Sigma. But one day, Sigma, along with a faction of Hunters, had declared war on humanity, becoming Mavericks themselves. The other Hunters tried to stop them, but they were too powerful.
Now X, along with the newest member of the Hunters, Zero, must stop Sigma's ♯♯♯♯♯♯♯♯♯.
Bosses
File:Mmxsigmaform1a.gif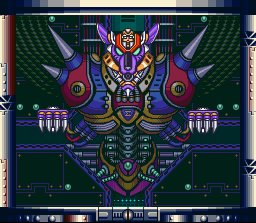 Mega Man
Robots
Dr. Light

Dr. Wily

Dr. Cossack

Others