Tsukishiro Alice
This article uses extremely rudimentary English or contains grammatical or spelling errors.

Moegirlpedia hopes that you can help with

improving

this article.


Basics
Name
月城アリス
Birthday
March 27
Horoscope
♈Aries
Blood Type
AB
Age
14
Height
141cm
Weight
32kg
Eye Color
Red
Hair Color
Indigo
BWH
B:74 W:52 H:75
CV
Hagiwara Emiko
Moe Points
loli, silence
Related Characters
Amakase Miharu
Tsukishiro Alice (月城アリス) is a character of "Da Capo" produced by CIRCUS.
Introduction
Tsukishiro was a cute little girl with Scandinavian bloodlines. Her father was pure Japanese and her mother was from northern Europe. Not good at communicating and expressing, she had few close friends. She had a doll which could ''speak '' by methods like ventriloquism. She was also flexible and good at sports.
This section may contain major

spoilers

!

Consider skipping these contents if you are not yet familiar with all the latest media releases.
Experiences
D.C.
Tsukishiro was a girl who planted flowers behind the school stadium. The reason why she planted them was to make wishes when they bloomed. However, the flower she brought was lavender from northern Europe, which could no way blossom under the climate of Japan. Her lavenders was nearly totally destroyed after an storm. Only one of them was saved by Yoshino Sakura and came out finally.
Her father was the second eldest son of a famous family. Refusing to accept the determination of his family, her father travelled far away on his own to northern Europe and set up a circus. He got married with Tsukishiro's mum and Tsukishiro was born.
When she was young, she travelled along with the circus, leaving herself little time to make friends. Concerned with her loneliness, her parents gave her a doll named ''Φ?λο?''(Greek: friend) to please her. Actually Tsukishiro wanted a true friend. She cried to her parents for a friend, hoping that her parents would stop their career in circus. Unfortunately, her parents left her alone forever in an accident during a show. Tsukishiro blamed herself for leading all these disasters, and as a result, became more solitary.
Not controlled by gloves, her doll speaks ill.
Game Route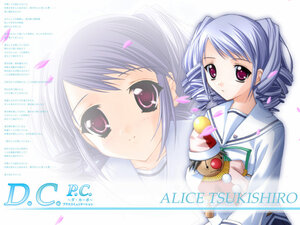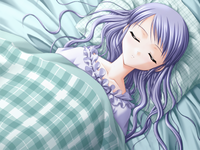 ▼ The text below needs help with translation!
References
CIRCUS:http://circus.nandemo.gr.jp/
Hatsune Jima :http://www.hatsunejima.com/