User:LiaMinina/Sandbox
Characters
Media

Games

Comics

MEDIUM5 Sisters Daily (五维介质姐妹日常)

Related articles
iMarine Project
imaginext

Characters

Original shorts (2011-2012)

Sir Angus MacReady • Chief Johnny Ladders • Major Dash Wildman • Dr. Samuel Stratus • Captain Pierre Planks

Imaginext Adventures (2013)

Ed Venture • Gemma • Kirch • Dern • Crystal Eye

Media

| | |
| --- | --- |
| | (Heroes of) Imaginext (2011-2012) • Imaginext Adventures (2013) |

Related articles

Fisher-Price
CeVIO Creative Studio

Voicebanks

Original Three

Sato Sasara • Suzuki Tsudumi • Takahashi

Color Voice Series
Sage
Huh. Where did my head go?
Basics
Name
Sage (セージ)
Eye Color
Black
Hair Color
Brown
CV
Soi Nakao
Moe Points
genius
From
Pekohara Village
Group Affiliation
Cook R'n (1st Generation)
Color
Green
"
キャベツにレタスにほうれん草!
優しい緑のぼくはセージ!
Cabbage, lettuce and spinach!
Gentle green, I'm Seiji!
"
Sage (セージ) is a character from Kitchen Sentai Cook R'n. He is played by child actor Soi Nakao.
Profile
The eldest of the three siblings. He isn't good at exercising. He scores good results at tests, but he is scared and has a small heart. He always comes up with a good idea. He is good with his hands and good at DIY.
MEDIUM5 Sisters Daily
MEDIUM5 Sisters Daily
[[File:Oops!
Where's my head?|250px]]

Original Name
五维介质姐妹日常 (Wǔ wéi jièzhì jiě mèi rìcháng)
Translation Name
MEDIUM5 Sisters Daily
Region
China
Original run
October 2, 2019-present
Written by
Chief Writer: Feng Ye (枫叶)
Scriptwriters: Ddickky
大九_LM
Lainey
MEDIUM5 Sisters Daily is a four-panel comic strip created by Quadimension, focusing on the MEDIUM5 characters. The characters are drawn in a chibi style.
Synopsis
The daily life and situations of Stardust and her sisters.
Sweety
Huh. Where did my head go?
Basics
Name
Sweety (蕉滴滴, jiāo dī dī)
Eye Color
Blue
Hair Color
Blond
Moe Points
pig, idol
Sweety is a minor character in GG Bond. She is a famous singer in the Fairy World.
Introduction
First appearing in GG Bond: Agent G (episodes 43 and 44). She acts under the guise of the idol "Super Joy II".
Spirou & Fantasio
Characters
Albums
Related media

Animation

Spirou (TV series) • Spirou & Fantasio: Two of a Kind

Video games

Spirou (1995 video game) • Spirou: The Robot Invasion

Related articles

Spirou (magazine) • Le petit Spirou
Genio


Basics
Name
Genio
Eye Color
Blue
Hair Color
Blond
Moe Points
genie, mascot
From
Argentina
Active in
Argentina
Group Affiliation
Serebanda
Related Characters
Bruno, Benito, Maqui, Chapi
Genio is the mascot of the Argentine dessert brand Serenito, manufactured by La Serenísima.
Introduction
Genio is the leader of La Serebanda, a group of friends who like to have fun and make every day the best it can be.
His name in Spanish means "genie", and in his early appearances he looked like one. Over time, the genie features disappeared and he looked more like a human.
Gallery
Spirou (2006)


Basics
Name
Spirou
Other Names
Robbedoes (Dutch name)
Eye Color
Black
Hair Color
Orange
Character Voicing
Laurent Vernin (French)
Matthew Géczy (English)
Jurjen van Loon (Dutch)
Leonard Mahlich (German)
Moe Points
reporter, adventurer
Related Characters
Fantasio
Spirou is a character in the TV series Spirou & Fantasio.
Introduction
A reporter who loves adventure, scoops and his friends. Bravely, he is always on the look for a new challenge, be it reporting scoops or saving the world.
History
Luna Cortizone


Basics
Name
Luna Cortizone
Eye Color
Brown
Hair Color
Brown
Moe Points
tan skin, braid
From
Italy
Active in
Italy
Related Characters
Father: Vito Cortizone
Crush: Spirou
Luna Cortizone is a character in the Belgian comic book series Spirou & Fantasio.
Introduction
She is the daughter of the mafia boss Vito Cortizone.
History
In Luna Fatale, her father Vito sent her to capture Spirou in order to make him find the love potion, a new Chinese invention.
This template includes items related to the Belgian comic series Gaston.
Characters

Main

Major

Minor

Worldview

Objects

Events

Parking Meter Wars

Comics

| | |
| --- | --- |
| Albums | Mind the Goof! • It's a Van Goof • Gone With the Goof! • The Goof is Out There • Goofball Season • Gomer: Gofer, Loafer • Gomer, Duke of Goofington • A Giant Among Goofs • Good Golly, Mr. Goof! |

Authors
Related media

Animation

Gaston (2009)

Video games

M'enfin (1987)

Movies

Gaston Lagaffe (2018)

Related articles

Other comic series

Companies
Seccotine 2006
Huh. Where did my head go?
Basics
Name
Seccotine
Ijzerlijm
Cellophine
Eye Color
Black
Hair Color
Blond
Character Voicing
Nathalie Stas (French, 2006)
Jannemien Cnossen (Dutch, 2006)
Alessandra Carneiro (Brazilian Portuguese, 2006)
Moe Points
reporter, ponytail
Seccotine, or Cellophine, is a character in the TV series Spirou & Fantasio.
Introduction
A reporter who is Fantasio's competitor and rival, who will risk anything just to get a scoop. It does happen that she teams up with Spirou and Fantasio sometimes...
History
In The Invisible Woman, Seccotine tested Professor Phosphene's new invisibility potion and became invisible.
M'enfin
M'enfin
Sung by
Théo Fernandez, Ludovic Schmitt
"M'enfin" is the theme song of the movie Gaston Lagaffe.
Lyrics
The data or lyrics this article, the copyright belongs to the original copyright owner, quoted for the purpose of introduction only.
Je m'appelle Gaston, stagiaire de profession
My name is Gaston, trainee by profession
Je porte des espadrilles, je suis un puit d'idées sans fond
I wear sneakers, I'm a bottomless pit of ideas
Vert, mon pull over me suit à toutes les saisons
Green, my sweater follows me all year round
Mécanicien hors pair, je pollue pas c'est trop con
Outstanding mechanic, I don't pollute, that's too stupid
Jeune celibataire, je suis en colocation
Young single, I am in a shared appartment
Avec mon chat, ma mouette, et Bubulle mon poisson
With my cat, my seagull, and Bubulle, my fish
Des fois je suis maladroit avec Prunelle mon patron
Sometimes I'm clumsy with Prunelle my boss
Pas vraiment exemplaire, le taf me donne des frissons
Not really exemplary, the job gives me chills
Rejoins les Moon Module Mecs, militants de la sieste
Join the Moon Module Mecs, militants of naps
Rejoins les Moon Module Mecs, militants de la sieste
Join the Moon Module Mecs, militants of naps
J'veux pas devenir esclave de la tablette
I don't want to become a slave to the tablet
Déconnecté de notre planète
Disconnected from our planet
Je sens que vos machinphones, ça attaque les neurones
I sense that your thingy-phones are attacking the neurons
Gaffophone, vous a pas rendu sourd
Gaffophone, it didn't make you deaf
J'vous avais dit que cette invention ferait fureur un jour
I told you that this invention would be all the rage one day
Et va faire danser, dans tous les alentours
And make you dance, in all the surroundings
N'empêche, je suis toujours là pour les autres
Still, I'm always there for others
Mais quand je me dépêche, je gaffe, c'est pas toujours de ma faute
But when I hurry, I goof, it's not always my fault
Rejoins les Moon Module Mecs, militants de la sieste
Join the Moon Module Mecs, militants of naps
Gaffophone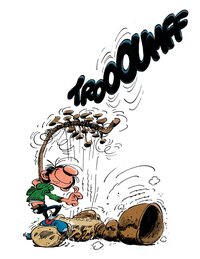 The Gaffophone, or Goofophone, is a fictional musical instrument created by Gaston Lagaffe.
Introduction
A strange musical instrument resembling a harp. Gaston describes it as having "massive vibration coupled with maximum resonance"[1] When played, the Gaffophone produces a loud, unpleasant sound capable of breaking windows, making ceilings collapse, or even cause natural disasters such as earthquakes. Despite this, Gaston thinks he is an expert in playing it.
Anecdotes
Franquin based himself on an ancient African harp

[citation needed]

The page "Help:Citation needed" does not exist in English Moegirlpedia yet. You may want to refer to this page on Chinese Moegirlpedia: Help:来源请求. (zh:Help:来源请求) to create the Gaffophone.[1]
The Gaffophone was once mistaken for a military weapon, which caused the Army to surround the place where Gaston was playing it.
References
Gaston top
M'enfin? Moegirlpedia invites you to improve this article related to the Gaston series!

As you read this article, you're welcome to participate in Template:Colorededit.
Before editing, please read the wiki quickstart, edit guidelines and retrieve relevant information.


We wish you a good time on Moegirlpedia.