Ayana Nana
Moegirlpedia would welcome your assistance in improving this article☆(◉ ᆺ ◉)
VTuber-related pages on Moegirlpedia are under construction. Readers with editorial intentions are welcome to read the wiki quickstart, editing guidelines and retrieve relevant information. Also, users who are interested in editing/translating and discussing are welcome to join EnMoe VTB E/TR UG: 730152695

As you read this article, you're welcome to participate in editing this page. Before editing, please read the wiki quickstart, edit guidelines and retrieve relevant information.

We wish you a good time on Moegirlpedia.
Ayana Nana

Artwork of Nana by Template:Topixiv
Full Name
Ayana Nana (

綾奈 なな

,

あやな なな

)
Hair Color
Pink
Eye Color
Blue
Height
156cm (including heels and ears/actually 142cm)
Birthday
August 18
Moe Points
rabbit, kemonomimi, joshikousei, ahoge, inner color
Affiliation

Origin
China
Act Range
bilibili
Status
Active (VTuber)
Tags

綾奈なな
#綾奈art

Fandom Name

粉兔子

1

Emoji
Windchime 🎐, Rabbit 🐰
Related People
Illustrator:

雪柊しま


Live2D Modeler:

Brian Tsui
Ayana Nana is a Chinese Virtual YouTuber under P-SP. She debuted on February 13, 2019.
Introduction
The high school girl with pink hair and rabbit ears is a pure, innocent student who is often called to detention for bad studies. She has a sweet tooth, loves to eat crepes and ice cream. Likes staying up late to play video games.
She is a diligent live streaming machine, Bilibili dynamic artist. Her main content is games, singing and other things, etc., will also contribute to the wonderful live content clip video and cover PV.
Nana has been back online after a long recuperation period due to gastrointestinal and fractures. If Nana doesn't have enough energy, you can watch the recording in Nana's favorites.
Design
She's a bunny girl with pink hair and blue eyes, has short hair with an ahoge sticking out. Wears a blue ribbon with bells on one of her sideburns. Her basig clothing is a blue and white summer dress with a blue windchime tied around the waist with a pink ribbon.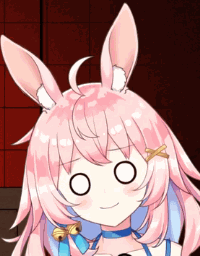 History
2019

Feb 13
Made her debut announcement.
May 22
Reached 30,000 fans.
Jun 23
Played Super Bunny Girl.
Jul 8
Reached 50,000 fans.
Aug 17
Released her first original song.[1]
Aug 18
Celebrated her birthday.
Nov 13
Covered the Final Fantasy FFXIV song.[2]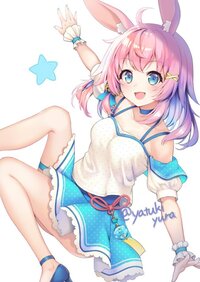 2020

Jan 23
Made a cover of the 'Spring Festival Overture".[3]
Feb 13
Covered the song "Colorless".[4]
Oct
Released her second original song, "Rainy Magic".[5]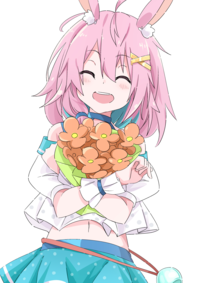 References
Virtual YouTubers
Memes

•

History
Individual / Independent / Unclassified Virtual YouTubers
Bilibili VTubers
 

Groups and Agencies

Creator Coffee

TBA

EroS

TBA

Keronsas

TBA

LBG

TBA
VTubers in other platforms

ACFun

Huya TV
DouYu
Douyin (TikTok)
External links