Hatsune Miku (SHINKALION THE ANIMATION)
This article was originally from page

发音未来

in

Chinese Moegirlpedia

, and the license might be different from English Moegirlpedia. The contents might differ after being modified by different users on both sides. For more information, see

Moegirlpedia:Copyrights

.
Moegirlpedia would welcome your assistance in improving this article☆Kira~

As you read this article, you're welcome to participate in editing this page. Before editing, please read the wiki quickstart, edit guidelines and retrieve relevant information.

We wish you a good time on Moegirlpedia.
Hatsune Miku (発音 ミク) is a character who appears in SHINKALION THE ANIMATION.
Introduction
The driver of "Shinkalion H5 Hayabusa", a 6th-grade elementary school student from Hokkaido. He is a member of the Hokkaido Command Office Hokkaido Branch.
He has a serious personality, excels in studies, and is good at Kendo. She has been working hard to become a good Shinkalion driver.
But the seemingly perfect her also has a weakness that is not known: motion sickness (spoiler alert)
Plot
(to be added)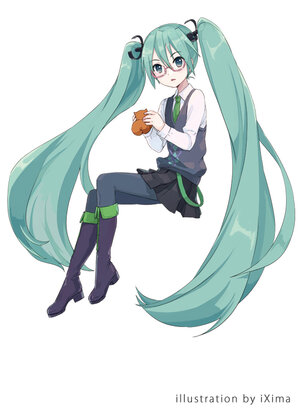 Although Hatsune Miku is indeed Shinkalion and Hatsune Miku linkage role In episode 15, everyone from CRYPTON crossover by reducing age, this role can not be seen as a subspecies of Hatsune Miku, but an original role in the world view of Shinkalion.
The relationship with Hatsune Miku is more like "Hatsune Miku is playing Hatsune Miku of Shinkalion"[2].
The voice of Saki Fujita is indeed Saki Fujita herself and not artificially tuned, but later CRYPTON adjusted Saki Fujita's voice into a similar electronic voice of Hatsune Miku, but in the first appearance, her voice is too mechanical (and close to Bouyomi) so the audience response is very bad, and later appearances to make a little closer to the human voice adjustment.
Notes and external links