Boom Boom Boom
This article was originally from page

Boom Boom Boom

in

Chinese Moegirlpedia

, and the license might be different from English Moegirlpedia. The contents might differ after being modified by different users on both sides. For more information, see

Moegirlpedia:Copyrights

.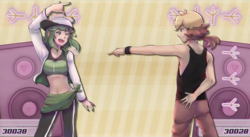 illustration by Ekkoberry
Title
Boom Boom Boom
Uploaded on January 1, 2019
3,074,487+ on YouTube, 50,400+ on Nicovideo
Singer
GUMI, Ham
Producer(s)
KIRA
Link(s)
Nicovideo
Youtube
"'Boom Boom Boom'" is a VOCALOID& UTAU English original songs by KIRA uploaded to YouTube and Niconico on January 1, 2019 and June 9, 2019, respectively. It is sung by GUMI (VOCALOID), Ham (UTAU) [1] and the harmony is sung by Kagamine Rin, Kagamine Rin & Len, Ruby (VOCALOID) and Kimine Kiichigo[2], Kouki Akarui (明るいコウキ), Hikari Akarui (明るいヒカリ) [3] (UTAU).
Lyrics
Yellow word is sung by GUMI, brown word is sung by Ham, and black word is duet
| | |
| --- | --- |
| | The lyrics in this paragraph, the copyright belongs to the original copyright owner, quoted for the purpose of introduction only. |
Aah
When the lights go out
I don't wanna wait, boy
I don't wanna waste no
Time
When the sun goes down
I just can't hold it in

Aah
Feel the bass line pound
I could be the one, yeah
Only for the night like
Aah
When the lights go out
Show me some of that
(Ah ah ah)

(I don't wanna stop)
There's not a thing I can do
(Just can't get enough)
I wanna be there with you
(Take it from the top)
And baby I see right through ya
Something tells me I won't get you
off
my
mind

Boom boom boom,
like the bass drum
Baby make me
Mo - o -ove to your rhythm
Make my heart go
Boom boom boom,
like the bass drum
Baby make me
Mo - o -ove to your rhythm
Make my heart go

Boom
When the lights go out
I'm like TNT, babe
I could blow your mind, say
Ooh
When the sun goes down
I'll show you what I mean

Come on, accelerate,
take it to the top
I wanna go until I drop,
baby
Ooh
When the lights go out,
Gimme more of that
(Ah ah ah)

(I don't wanna stop)
There's not a thing I can do
(Just can't get enough)
I wanna be there with you
(Take it from the top)
And baby I see right through ya
Something tells me I won't get you
off
my
mind

Boom boom boom,
like the bass drum
Baby make me
Mo - o -ove to your rhythm
Make my heart go
Boom boom boom,
like the bass drum
Baby make me
Mo - o -ove to your rhythm
Make my heart go

Baby, baby, come on,
come on a little closer
I just wanna feel your body on mine
Baby, baby, come on,
come on a little closer
I can taste the rush tonight
Baby, baby, come on,
come on a little closer
I just wanna feel your body on mine
Baby, baby, come on,
come on a little closer
I can taste the rush tonight

Boom boom boom,
like the bass drum
Baby make me
Mo - o -ove to your rhythm
Make my heart go
Boom boom boom,
like the bass drum
Baby make me
Mo - o -ove to your rhythm
Make my heart go

Baby, baby, come on,
come on a little closer
I just wanna feel your body on mine
Baby, baby, come on,
come on a little closer
I can taste the rush tonight
Baby, baby, come on,
come on a little closer
I just wanna feel your body on mine
Baby, baby, come on,
come on a little closer
I can taste the rush tonight
External links and notes
SoundCloud: https://soundcloud.com/kira_productions/boom-boom-boom-feat-gumi-ham