Kagamine Rin & Len
| | |
| --- | --- |
| | The content in this page needs long-term update, the data in this page might not be the latest. |
Kagamine Rin & Len, a.k.a. Kagamine Rin (鏡音リン) and Kagamine Len (鏡音レン), is a virtual singer softwear developed by Crypton Future Media(The "Crypton"), based on VOCALOID by Yamaha. It's the second work of Character vocal series, which could also be regarded as the anthropomorphic of the softwear.
During the development, Crypton thought to set them as twins that Rin is older[2], however when they were released, in order to offer larger space of creation, not only did they gave up the setting of twins, but even the setting of "Image in the Mirror" was also given up[3].
Now the setting of Kagamine Twins has already been accepted by fans and some creators. But "Kagamine Twins" is a secondary setting, accepted by Crypton, but not officially claimed, on the official website of Crypton the library of "VOCALOID2 鏡音リン・レン act2" is also called "超フレッシュなツイン・ボーカル" [4]it's both okay to say Rin is older or Len is older.
Introduction
Kagamine Rin
Kagamine Rin is a Genki, beautiful teenage girl, who has a blond bob cut with a huge bow-knot, and a school suit with a treble clef printed on it. Her voicebank is given by Shimoda Asami[5].
Kagamine Len
Kagamine Len has a strong voice of teeming, blonde hair tied up short from behind, and a school suit with a bass clef printed on it. His voicebank was given by Shimoda Asami[6].
Information on the Capability
 
 
Rin
Len
Gender
Female
Male
Genre
Electro, Rock pop, Ballad ~ Ensemble Pop
Electro, Rock pop, Ballad ~ Ensemble Pop
Optimum tempo/BPM
85 ~ 175
70 ~ 160
Optimum range
F#3~C#5 *Note
D3 ~ C#5
Voice of Append
Power
Power
Genre
Rock, Pop, Dance, Enka
Rock, Pop, Dance, Enka
Optimum range
F3~B4
A2~D4
Optimum tempo/BPM
65 ~ 170
65 ~ 170
Voice of Append
Warm
Cold
Genre
Lyric rock, Lyric, Pop, Folk
Lyric rock, Lyric, Pop, Folk
Optimum range
F3 ~ B4
B2 ~ C4
Optimum tempo/BPM
60 ~ 160
60 ~ 160
Voice of Append
Sweet
Serious
Genre
Basanova, French Pop, Ambient, Electro
Post Rocks, Phsyke, Ambient music, Ambient dub, Electronica
Optimum range
G3 ~ C5
A2 ~ C4
Optimum tempo/BPM
55 ~ 155
55 ~ 155
Version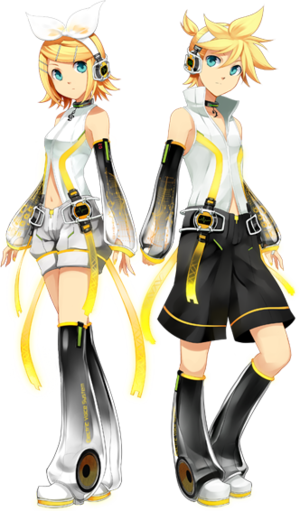 The first version of "Kagamine Rin & Len" was released on Dec. 27th 2007. The voicebank was based on Vocaloid 2 engine
On May 26th 2008, pictures of Kagamine Rin & Len on the official website of Crypton started to Flake. Two days later, Crypton published the new version of Kagamine Rin & Len called "Kagamine Rin & Len act2" on the 75th session of IPSJ Special Interest Group on Music and Computer[7]. The new version improved the smoothness between syllables and decreased the noise. Crypton said that users who had already bought the old versions could update their libraries for free before Sept. 20th[8]. The demo song was released on Jun. 18th, and the new character design was released in Jul. 9th. A few minor changes were made on the mechanical part of their hand, etc. a.k.a glowing and the green screen on the cuff.
On Jul. 18th 2008, "Kagamine Rin & Len act2"was officially released[9].
Because of the great success of Hatsune Miku#Append, Crypton decided to develop the append version of "Kagamine Rin & Len act2" a.k.a "Kagamine Rin & Len Append" in early December. On Dec. 27th 2010, "Kagamine Rin & Len Append" was released as an append library of "Kagamine Rin & Len act2". In this update, their voice became more mature. Len's voice became more present and calm, while Rin's voice became more charmful. Besides, some breathing was added to their voice in order to make it more realistic. 6 voices were appended in this update, including "RIN DB 1 POWER", "RIN DB 2 WARM", "RIN DB 3 SWEET", "LEN DB 1 POWER", "LEN DB 2 COLD", "LEN DB 3 SERIOUS", the purchases were separated, and was depended on the original Kagamine Rin & Len act2. At the same time, the character design was changed again by the official.
On Dec. 12 24th 2015, "Kagamine Rin & Len V4X", "Kagamine Rin & Len V4 English" , which were based on the VOCALOID 4 Engine, and the bundle of the two were released. The E.V.E.C. was supported on "Kagamine Rin & Len V4X Power, and the ones who bought Kagamine Rin & Len V4X Bundle could have Piapro Studio, an editor developed by Crypton, and Studio One Artist Piapro Edition, a DAW software.
Process of Making the Library
Kagamine Rin & Len were designed and illustrated by KEI, who also designed Hatsune Miku, voiced by Shimoda Asami, a new voice actress who is popular in Niconico Douga, voiced in the same period as Hatsune Miku. A lively voice of Shimota was recorded. The recording took 8 hours in two day and consisted of singing meaningless strings of kanas on top of background music. However, only Rin's voice was recorded at first while Len was only in the conceptual stage then. He was officially determined in middle September in 2007, and recorded on Sept. 28th that year.
The libraries of Rin and Len were separated, and cost more to produce than Hatsune Miku, yet their prices were similar. This is because the popularity of Hatsune Miku caused a sudden increase of the beginners of electro music creating, yet the prize of 15,750 Yen was still too expensive for most people (but it's still a low one among similar software). Thus Crypton decided to add more content while the prize was the same as Miku. The software was finished on December 11th and released on 27th. The libraries fit rock, electro, dance, ballad, and singing pops the most, the flexibility of Gender Factor, a.k.a. GEN, is higher than that of Miku, and the component of the overtone is also more complex (because of this, a side effect of becoming trance would take place when having a low pitch). Meanwhile, Rin and Len's effect were published before the official publication of their voicebanks.
Naming
The name "Rin" of Kagamine Rin was published on November 1st, the kanji is "铃" or "钟", which has a meaning of attracting others' attention, the surname "Kagamine" means "voice reflected from a mirror" and "the opposite gender reflected in the mirror"(some also say "the other ego reflected in the mirror"). Their theme is "world in a mirror", "the intersection of illustration and the reality". On November 7th, due to the sell advance of the DTM MAGAZINE 2007.12 which includes the introduction of the CV02, the surname, and the CV are discovered before it was officially published. Miku is not Rin's relative according to the official setting but still calls her "sister". On December 3rd, the library "Kagamine Len" was released. The name "Len" means "connected existence", "Rin" and "Len" also have a meaning of "Left Right". Though they have the same surname, they are not twins, neither are they set to be friends, they are only "the opposite gender reflected in the mirror". Yet still, a lot of people call them "Twins", "Brother and sister", in the official manga Hatsune Miku: Unofficial Hatsune Mix(In fact Crypton announced that it's not an official work, yet the copyright is still Crypton's) Rin was called "the elder sister".
Responce
Around December 20th 2007, Kagamine Rin & Len's market share started to increase rapidly and reached a peak of 62.2%, which is even more than the first place, Hatsune Miku. And even after the sudden rise, it's still 23.6%. About 20,000 copies were sold till July 23rd and about 25,000 copies were sold till October 27th. 500 videos about them had been posted before the official publication, and more than 4,000 were posted until February 6th. Besides, though the popularity of creating with Vocaloid started at the time of Hatsune Miku, there are still a lot of users who started using Vocaloid when Kagamine Rin & Len were published, such as Arai Hiroaki a.k.a. Signal-P, a Producer in Niconico Douga.
Famous Works
Official Demos
V2
act2
Rin
Len
Rin
Len
R-Side
L-Side
R-Side
L-Side
1:02
1:07
1:02
1:07
Dec. 18th 2007
Dec. 24th 2007
Jun. 18th 2008
Jun. 18th 2008
Demo
Demo
demo of V2
Demo of V2
Duo
Duo
Stereo
ACTION
Ocean in the Summer
1:16
1:10
1:18
Dec. 26th 2007
Jul. 4th 2008
Jul. 7th
Demo
Demo
Demo

append
Rin
Len
Startline
Supersensitive
Mermaid Princess
pulse
Sanity
Song of the moon
Tone Piece
1:59
1:35
1:34
1:45
1:33
1:29
1:29
Dec. 10th 2010
Dec. 17th 2010
Dec. 25th 2010
Dec. 17th 2010
Dec. 25th 2010
Apr. 27th 2011
Apr. 27th 2011
Demo
Demo
Demo
Demo
Demo
Demo
Demo
Kagamines' Three Tragedies
Original sons posted by mothy, all included in the Evillious Chronicles , a commercial CD.
Regret Message uploaded on May 25th 2008, sung by Kagamine Rin, had owned more than 630,000 views till October 10th 2010, and the re-composed version was made on December 27th 2009.
Commercial CDs
Main Entry: Kagamine Rin & Len/Commercial CDs
Normal Songs
Main Entry: Kagamine Rin & Len/Normal Songs
Kagamine and Road Roller
After the release of their character design, since Hatsune Miku, the previous work was famous for holding a piece of leek in the song Ievan Polkka, many argued for what item should Rin be related to. In the beginning, many said suggested that it could be "yellow or orange fruit or vegetables, such as bananas, oranges, onions, yet none of them were absolutely popular. (Later Both of them had their representative item: orange for Rin, and banana fo Len) On December 1st 2007, loadorigin, a niconico user, uploaded a video, talking that Rin matches to yellow road rollers, and the onomatopoeia of a road roller, "WRYYYYYYYN!!!" (From "URYYYYYY!!!", the mantra of Dio, who is a character in JoJo's Bizarre Adventure) is similar to the name "Rin". After that, lots of pictures-themed road rollers were uploaded on PIAPRO, which is a website built by Crypton for the creators, and the same thing also appeared and became popular on niconico. It, at last, became one of the representative items of them (Yet banana and orange is more common for fandom creation, and works using road rollers are often comedies. Later in the third episode of the official manga Hatsune Miku: Unofficial Hatsune Mix, there's a road roller out of the house where Hatsune Miku and Kagamine Rin and Len live.
Their Developement on Multimedia
Because of the popularity of their senior, Hatsune Miku, lots of the customers wanted Crypton to make CDs, animes, and games about them. In October 2007, some companies began to suggest Crpton make some plannings around these characters, including video games, comics, figures, e.t.c. When Kagamine Rin & Len was officially released, different kinds of plannings including Kagamine Rin and/or Len appeared.
On October 25th 2007, Comic Rush, a manga magazine, announced that the author of Miku's character design KEI would start to serialize a comic-themed Miku named Hatsune Mix!, Rin and Len will appear in Episode 2. Crypton said that it wouldn't be an official work, and they would try to write it in a way so it wouldn't interfere in the creation of other worldviews, and it wouldn't be animated at the present stage. When it was officially serializing, the title was changed to Hatsune Miku: Unofficial Hatsune Mix, yet the copyright is still Crypton's.
Frontier Works published a fanbook named "Hatsune Miku" "Kagamine Rin" CV series Offical Fanbook 2007winter on C73. AXIA (Almighty X Item Amusement) and COSPA would also publish related items. Souvenirs were also sold on C74 in 2008.
Turi Paradise, an online game, had an activity themed Hatsune Miku between December 21th 2007 and January 25th the next year. Kagamine Rin was added in January 2008, and sang the theme song of the game, Water Drop.
On December 28th 2007, Niconico Douga held a raffle, picked 100 original works using Hatsune Miku, the authors of the works would get the software of Kagamine Rin & Len, it ended on January 7th 2008, and the result was published on 10th that month.
On February 25th, Nendoroid of Good Smile Company held a pre-sale of a 10-cm-tall figure of Kagamine Rin. And the face of the figure is solicited from the audience.
On June 5 of the same year, the online game PangYa which added Hatsune Miku to the game on May 22, added Kagamine Rin. The background music during the event has also changed. On June 12, they joined Kagamine Len.
On July 25 of the same year, VOLKS began accepting orders for Kagamine Bell and Ren's character models, 23cm high, the master model is designed and manufactured by ミルヒ・シュトラーセ,PVC character model was on sale on November 8, 2008, 10,290 yen per pair and they have been sold out; The resin figure model was released on May 23, 2009, for 21,000 yen per pair. Mazete yo☆Nama Voice feat. Hatsune Miku 1st Anniversary♪ was released on C74 on the same day, Contains five original songs by Hatsune Miku, Kagamine Rin & Len, MEIKO, KAITO.
On August 1st of the same year, Hatsune Miku, Kagamine Rin & Len, are scheduled to appear in NENDOROID figures on Sega's game Virtua Fighter 5R。
They announced the production of the music game Hatsune Miku: Project DIVA in late August of the same year, Kagamine Rin & Len would appear in the game, game production companies would recruit songs, illustrations, and costume designs in PIAPRO.
The CD squarewave surfers~memory of 8bit released on September 3 of the same year, which included the song "Summertime Blues-"さまたいぶー" made by act2.
In October of the same year, MAX FACTORY is scheduled to release Figma series Rin & Len and figure models. Rin is about 14cm high and Lin is 15cm high.
In October of the same year, SEGA launched the character model of Kagamine Rin, which is a prize of the claw crane, and the character model of Kagamine Rin (also a prize of the claw crane) was launched in November 2010.
On November 5th of the same year, the MOLA Leopalace Z team participated in the SUPER GT with Kagamine Rin & Len's car (ACG series car painted). On November 8th and November 9th, they participated in the final event of SUPER GT in Fuji International Speedway. Ranked 6th in the team, and won six awards including team, driver, and supervisor. In addition, GOODSMILE RACING also used Kagamine Rin & Len's car as one of the racing cars in the FSW on January 18, 2009.
On November 21 of the same year, PIAPRO announced the design of recruiting mini 4WDs. The selected works are scheduled to be made into mini 4WDs, and songs for mini 4WDs will also be collected.
On December 27 of the same year, riding on the first anniversary of the release of Kagamine Rin & Len, it was published in the PIAPRO collection of songs. The selected works will be covered by Shimoda Asami, and the election results have been announced.
On January 28, 2009, Hatsune Miku and Kagamine Rin & Len cooperated with the website creation software "IBM Homepage Builder". Purchasers in the cooperation event can download special illustrations, etc.
On June 29th of the same year, GOOD SMILE COMPANY released a 1:8 scale character model. The bell is about 17cm high and 16cm high. The master model is designed and manufactured by 远那かんし (りゅんりゅん亭).
References and External Links
Official
others