Dunk for Victories
Moegirlpedia would welcome your assistance in improving this article☆Kira~

As you read this article, you're welcome to participate in editing this page. Before editing, please read the wiki quickstart, edit guidelines and retrieve relevant information.

We wish you a good time on Moegirlpedia.
'''''


Original Name
筐出胜利
Translation Name
Dunk for Victories[1]
Region
China
Directed by
Huang Junming, Chen Lijin
Written by
Liu Zemin, Liu Qingrun, Huang Wenji, Zhu Haiying, Chen Xiaodan, Shi Jianna, Liang Zikai, Geng Yimiao, Liu Feng
Licensed by
Creative Power Entertaining
State
Creative Power Entertaining
Linked works
Pleasant Goat and Big Big Wolf
Dunk for Victories, is the thirty-forth season of the Pleasant Goat and Big Big Wolf series. Also, it is the first season of Yundong Yingxiong Zhuan.
Plot
ɅBA was about to start, all ethnic groups were ready to go, and the Goat Village Basketball Team was born in mockery. Weslie firmly believes that human effort is the decisive factor, leading the team to challenge strong opponents again and again. On the other side, Wolffy played for the Wolves Team and made an appointment with the goats to enter the final. Although the process was tortuous and arduous, they have always moved firmly on the path of chasing basketball dreams.
Staff
Animation directors: Chen Xiongbin, Rong Yuqing, Zhou Zeju, Quan Chao, Lin Jiashu, He Yingqiang, Liang Songxian, Cai Muyan
Art Director: Chen Yuanyuan
Art Design: Mai Wanxia, ​​Li Shiyu, Xu Zhuojie, Wang Jianhao, Cai Yanbing, Mei Zhiwen, Lei Yuerong, He Jieyin
Animation design: Wen Rujie, Zhang Hanwen, Cui Hengshuo, He Zihua, Tian Shutian, Su Zehua, Yang Lu, Wang Hongxing, Nie Haofan, Liu Siting, Chen Dong, Xiao Guijun, Liang Xilun, Huang Miaoming, Sun Hai, Li Jinru, Yang Yi, Huang Meiping, Wen Zi Hao, Xiong Zhiqi, Huang Weijia, Cai Kuichang, Li Xin, Zhu Siyan, Shao Jierong, Zhao Jiaxin, Gan Jingmin, Zhang Huiying, Wang Jianjun, Luo Zheng, He Wenyi
Three-dimensional production: Zhang Cheng, Yin Runzhong, Lan Qichao, Tang Wuqiang, Wang Xin, Li Yingqi, Wang Jialu, Gong Cun
Producers: Cai Ruiqiong, Zhang Xian, Su Wanzi, Yan Liting
Production Coordinator: Hou Zhiyun, Ma Yanni, Li Chunying
Media hairstyle: Qiu Haiyan, Ding Dan
Promotion: Liang Yanni, Guan Xiaowen, Feng Xiaoping
Marketing promotion: Xue Wenjun, Zhuang Xuelian
Post-production: Sun Caixia, Xian Jingwen, Wu Xueli, Huang Shihong, He Yuqing
Sound effects production: Guangzhou Xianwu Culture Communication Co., Ltd. (Kuang Yingqi, Xie Yutian, Zhang Xuanyu, Yu Miao, Tang Changteng, Han Tian)
Sound effects director: Kuang Yingqi
Motion/Mixing: Kuang Yingqi
Recording: Miao Haibiao
Editor: Wu Chaowei, Guo Minqi, Liu Wei
Planning and Coordination: Guo Peng
Screenwriters: Liu Zemin, Liu Qingrun, Huang Wenji, Zhu Haiying, Chen Xiaodan, Shi Jianna, Liang Zikai, Geng Yimiao, Liu Feng
Directors: Huang Junming, Chen Lijin
Producer: Huang Xiaoxue
Producer, Distributor, Producer: Creative Power Entertaining
Characters
Goats
Wolves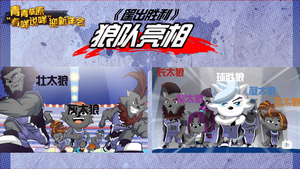 Others
 Lions Team
Character
Voice Actor
Position
#
Note
Lion Jay
Li Tuan
1
Captain, Idol
Zhang Lin
9
Lion Laina
Liang Ying
26
Liu Hongyun
31
Gao Quansheng
52
Jie Shuai's agent
Zhang Lin
HC
N/A
Also serves as Jie Shuai's agent
 Rabbits Team
Character
Voice Actor
Position
#
Note
Tu Ke'ai
Zhao Na
2
Captain
Zhang Lin
5
Liang Ying
7
Zu Qing
9
Liu Hongyun
16
 Leopards Team
Character
Voice Actor
Position
#
Note
Leopardess
Zhao Na
PG
9
Captain
Bao Mei
Zhao Na
PG
9
Pretend to be her sister
Zhang Lin
4
Li Tuan
7
Li Tuan
14
Deng Yuting
15
 Eagles Team
Character
Voice Actor
Position
#
Note
Ying Aotian
Li Tuan
C
18
Captain
Deng Yuting
69

KUN (AUGUST)

Li Tuan
6
Liu Hongyun
28
Deng Yuting
15
 Robots Team
Character
Voice Actor
Position
#
Note
Jiqi Qiutan(Unit One)
0-1
Unit Two
0-2
Unit Three
SF
0-3
Unit Four
0-4
Unit Five
0-5
Real Other Character
Narrator:Gao Quansheng
Hou Ge:Liu Hongyun
Episodes
No.
Chinese Title
English Title
Script
Director
Original air date
1
我要打篮球
I Want to Play Basketball
Liu Zemin
Quan Chao, Chen Xiongbin, Rong Yuqing
January 22, 2021
2
霸道强者
Domineering Strongest
Liang Zikai
He Yingqiang, Zhou Zeju
3
神秘蒙面侠
Mysterious Masked Man
Zhu Haiying
Huang Junming, Chen Lijin
4
寻觅高人
Looking for a Professional
Liu Feng
5
唯一的机会
The Only Chance
Shi Jianna
Zhou Zeju
January 23, 2021
6
合作
Team Up
Liu Qingrun
Huang Junming, Chen Lijin
7
懒羊羊入队
Paddi Joins the Team
Huang Wenji
8
偶像的力量
The Power of Idol
Chen Xiaodan
9
篮筐下的守护神
The Guardian Under the Hoop
Geng Yimiao
January 24, 2021
10
篮球主将
Basketball Veteran
Liang Zikai
11
羊队冲冲冲
Goat Team Go Go Go
Liu Feng
12
前夜
Eve
Liu Qingrun
13
激烈初战
Fierce Debut
Huang Wenji
Cai Muyan, Lin Jiashu
January 25, 2021
14
神秘高手
Mysterious Master
Shi Jianna
Huang Junming, Chen Lijin
15
狮子的梦想
Lion's Dream
16
意外的压力
Unexpected Pressure
Zhu Haiying
He Yingqiang
17
全力以赴的篮球
Trying Best for Basketball
Liu Zemin
Rong Yuqing
January 26, 2021
18
热潮
Fandom
Geng Yimiao
Quan Chao
19
球场霸主
Lord of the Court
Shi Jianna
Huang Junming, Chen Lijin
20
兔兔危机
Bunny Crisis
Huang Wenji
21
神奇的魔术
Migical Magic
Zhu Haiying
January 27, 2021
22
地下之战
Underground Battle
Geng Yimiao
Lin Jiashu
23
低谷中的懒羊羊
Paddi in Low Spirits
Liu Zemin
Huang Junming, Chen Lijin
24
焕然一新
Brand-new
Liu Feng
Chen Xiongbin
25
各自的决心
Respective Determination
Liang Zikai
Cai Muyan
January 28, 2021
26
堂堂正正的胜利
Reasonable Victory
He Yingqiang
27
真正的强大
True Strength
Liu Qingrun
Rong Yuqing
28
振作与破灭
Perk and Shattered
Huang Junming, Chen Lijin
29
奇怪的豹姐
Strange Bao Jie
Huang Wenji
January 29, 2021
30
愚蠢的执着
Silly Persistence
Liang Zikai
31
更好的控卫
A Better Point Guard
Shi Jianna
32
球胜狼的回忆
Qiusheng Lang's Memories
Liu Feng
33
一触即发
Explosive Situation
Zhu Haiying
Zhou Zeju
January 30, 2021
34
破阵之章
Chapter of Way Out
Geng Yimiao
Cai Muyan
35
因为热爱
Because of Craziness
Liu Zemin
Lin Jiashu
36
躲猫猫派对
Hide-and-Seek Party
Geng Yimiao
Huang Junming, Chen Lijin
37
鹰狼对决
The Showdown of Eagle and Wolf
Huang Wenji
Quan Chao
January 31, 2021
38
追求
Pursue
Liu Qingrun
Chen Xiongbin
39
球场沉浮
Ups and Downs on the Court
Liu Zemin
Huang Junming, Chen Lijin
40
狂风之息
Breath of Fierce Wind
Zhu Haiying
41
无法战胜的对手
An Invincible Opponent
Liang Zikai
Zhou Zeju
February 1, 2021
42
迎风而上
Face the Wind
Shi Jianna
Liang Songxian
43
一夫当关
One Guards the Hoop
Liu Feng
Lin Jiashu
44
绝杀超负荷
Buzzer Beating Overload
Liu Zemin
Chen Xiongbin
45
灰太狼的消失
The Disappearance of Wolffy
Liang Zikai
Huang Junming, Chen Lijin
February 2, 2021
46
寻狼记
Finding Wolf
Liu Qingrun
47
黑色训练基地
Dark Training Base
Zhu Haiying
48
最后一块拼图
The Last Piece of the Puzzle
Liu Feng
Rong Yuqing
49
神秘的对手
Mysterious Opponent
Huang Wenji
He Yingqiang
February 3, 2021
50
超越自己
Surpassing Yourself
Shi Jianna
Quan Chao
51
狼羊的默契
Tacit Understanding Between Wolves and Goats
Geng Yimiao
Huang Junming, Chen Lijin
52
狼族叛徒
Traitor of the Wolves
Liu Qingrun
53
紫太狼的阴谋
Zi Tailang's Conspiracy
Liang Zikai
February 4, 2021
54
生死抉择
Choice Between Life and Death
Shi Jianna
He Yingqiang
55
逃出生天
Escape
Huang Wenji
Zhou Zeju
56
困局
Dilemma
Geng Yimiao
Liang Songxian
57
全心全意
Whole-Heartedly
Zhu Haiying
Lin Jiashu
February 5, 2021
58
执念
Obsession
Liu Zemin
Chen Xiongbin
59
以一敌众
Individual Versus Team
Liu Feng
Quan Chao
60
冠军
Champion
Rong Yuqing
Related Songs
Opening Theme (OP)
Lyrics by:Liu Futing, Composed by:Miao Haibiao, Sung by:Yi Qi
Ending Theme (ED)
Lyrics by, Composed by, Sung by:Ivy Koo
Interlude (IN)
Lyrics by:Liu Futing, Composed by:Miao Haibiao, Sung by:Yi Qi
Other
1/26,Director Huang Junming Post a Weibo,Subjest Kobe Bryant's famous quote"When you want to give up, think about what made you insist on coming here.🏀". The picture below shows Kobe's back and Weslie wearing the Los Angeles Lakers jersey to commemorate Kobe.[2]Cpe's Weibo and Bilibili also reposted the same content later.
In this season, the protagonist team includes some other players who have their corresponding basketball stars on the NBA court, such as: Weslie————Tracy McGrady, Sparky————Dennis Rodman, Paddi————Wardell Stephen Curry II, Tibbie————Jason Chandler Williams, Jonie————Yao Ming, Wolffy or Qiusheng Lang[notes 2]————Kevin Wayne Durant etc.
Notes
↑ The other alternates who joined the Wolves Team all left before the game started, And Seven Evil Wolves was expelled before playing any of the games, so they were not included in the Wolves Team.
↑

There are different opinions here. There are currently two opinions. One thinks Wolffy corresponds to Durant, and the other thinks that Qiusheng Lang corresponds to Kevin Wayne Durant, although there are many more people who agree with the former statement than the latter.
Reference