Fuji Aoi
Moegirlpedia would welcome your assistance in improving this article☆Kira~

As you read this article, you're welcome to participate in editing this page. Before editing, please read the wiki quickstart, edit guidelines and retrieve relevant information.

We wish you a good time on Moegirlpedia.


Basics
Name
Fuji Aoi (富士葵/ふじ あおい)
Other Names
Showa Aoi (昭和葵), Virtual Singer
Birthday
June 18
Horoscope
♊Gemini
Age
17
Height
157cm
Eye Color
Blue
Hair Color
Black
Moe Points
齐刘海, high school student, long ponytail, face mole, tennen boke, singer, oroka
From
Japan
Active in
Fuji Aoi is a Japanese Virtual YouTuber and singer.
Introduction
Fuji Aoi started her activities on December 8, 2017. Her original goal was to spread the best of Japanese culture to the world.
She as a 17-year-old female high school student, her hair is styled in a high ponytail and has bangs, and she often wears a blue headband. Her personal promotion slogan is "The support leader in your heart (キミの心の応援団长, kimi no kokoro no ōendan-zan), calling her fans "Aoi Opera Troupe" (葵歌劇団, Aoi kagekidan).
The content of her videos are mainly narratives, live games, and song covers. she often laughs while streaming, which has become a feature of her.
Her "Unbelievable World Hunter" series is the longest series in Aoi's channel. In each episode, Aoi would travel around the world to introduce famous local attractions.
The "tasting series" also has several episodes (cola, green tea, ramen, etc.) If she got a food or beverage wrong, she had to play a horror game as a punishment.
Singing
Aoi has a superb singing level recognized in the virtual YouTuber world and is known as "Virtual Singer"
A livestream revealed that she practiced her singing by herself and had not been trained by any professional organization.
Her clear singing voice and excellent scenery editing have gained a lot of popularity in Aoi's early videos
Her famous works are the covers of Sparkle, Nandemonaiya and "Zenzenzense", songs from the movie Your Name.
Chronology
Started her activities on December 8, 2017.
Crowdfunding started on January 24, 2018.
On February 4, 2018, the original goal of 10 million yen (10,000,000 ¥) was reached after 11 days.
On March 14, 2018, the crowdfunding ended, 22,594,680 yen were raised.
On April 27, 2018, Aoi's new 3D model was revealed.
On April 28, 2018, Aoi opened her educational channel, Aoi's Kids (あおい'sきっず)
On May 5, 2018, she collaborated with Mirai Akari, Dennou Shojo Siro, Nekomiya Hinata, Nekomasu, Bacharu, Tokino Sora and Sakuragi Miria on a Niconico stream hosted by Virtual YouTuber 狼人杀.
On May 18, 2018, the number of channel subscribers exceeded 100,000.
On June 6, 2018, she appeared on the Tokyo MX show Social Gene (ソーシャルジン).
On June 8, 2018, she and Tokino Sora made a cover of the song Lion.
On July 27, 2018, her new outfit was revealed.
On September 16, 2018, she, Azulim, Tokino Sora, Mokoda Mememe, Yozakura Tama, Tsukino Mito, Tanaka Hime and Suzuki Hina participated on the RAGE Virtual YouTuber Grand Prix ~2018 Autumn~ as the "Yozakura Tama team", and they won.
On December 15, 2018, she commemorated the first anniversary of her cover of "Nandemonaiya", and opened a livestream called "Sunset Fire".
On December 31, 2018, she co-hosted Niconico's New Year's Eve with Mirai Akari, Dennou Shojo Siro, Nekomiya Hinata, Baacharu, Tanaka Hime, Suzuki Hina, Tokino Sora, Tsukino Mito, Kenmochi Touya, Sachiko Kobayashi, Yumesaki Kaede, Kazami Ryu, Sakuragi Miria, Domyoji Haruto, Peanuts-kun, Koukaryuu Ninja Ponpoko, Nekomasu, Mochi Hiyoko, Mokoda Mememe, Kongou Iroha, and Suntory Nomu.
On January 2, 2019, she participated in NHK's Virtual Nodo Jiman as a contestant, with Kizuna Ai, Sachiko Kobayashi, Mirai Akari, Domyouji Haruto, Baacharu, Tsukino Mito, Higuchi Kaede, Shizuka Rin, Domyouji Cocoa, Dennou Shojo Siro, Tokino Sora, Peanuts-kun, Koukaryuu Ninja! Ponpoko, Virtual Gorilla, YuNi, Tanaka Hime and Suzuki Hina, and successfully qualified.
On June 15, 2019, her new outfit for her birthday event was revealed.
On December 18, 2019, she collaborated with the mobile game Dawn of the Breakers, and appeared with a new outfit, designed by Aoi herself!
On January 1, 2020, she participated in NHK's Kōhaku Uta Gassen, as a member of the Red Team (Akagumi).
On January 31, 2021, she participated in Vtuber Fes Japan 2021, and held a concert on the second day of the event.
On April 4, 2021, she participated in the concert V-carnival.
Crowdfunding and new model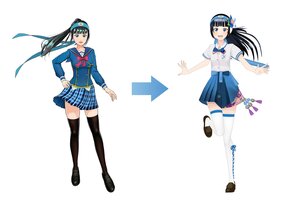 In her early days, Aoi's crude 3D model scared many viewers away. So, on January 24, 2018, Aoi's staff announced the crowdfunding plan "I want to be cute! 'Making Virtual YouTuber Fuji Aoi Cute' Project" (かわいくなりたい!バーチャルYouTuber『富士葵』をかわいくするプロジェクト) on the crowdfunding platform Makuake. The initial goal was to raise 10 million yen (¥10,000,000) in funds for equipment upgrade and optimization for Aoi's model. On February 4, 2018, 11 days after the project started, the goal was reached, and the operation team announced a higher level of goals.
On March 14, 2018, the crowdfunding plan ended, and the staff raised a total of ¥22,594,680, reaching the second goal of "adding new outfits".
On April 3, 2018, in a PANORA interview, her new model was officially revealed.
Discography
Mini albums
Hajimari no Oto (はじまりの音) (2018)
Yell and Yell (エールアンドエール) (2019)
Studio albums
Yukiteki Palette Syndrome (有機的パレットシンドローム) (2019)
Cover albums
Virtual YouTubers
Memes

•

History
Virtual YouTubers (YouTube)
 

Japanese Virtual YouTubers (Major)

Agencies / projects / groups
Independent
Individual

TBA
 

Japanese Virtual YouTubers (Minor)

Agencies / projects / groups
 

Overseas Virtual YouTubers

Agencies / projects / groups
Independent
 

VUPs (Bilibili)

Agencies / projects / groups

Agencies

TBA

Projects

Groups

Individual

bazooka

P-SP

Virtopia Club