Kilin & Xi
Moegirlpedia would welcome your assistance on improving this article☆Kira~

As you read this article, you're welcome to participate in editing this page.
Before editing, please read the wiki quickstart, editing guidelines and retrieve relevant information.


We wish you have a good time on Moegirlpedia.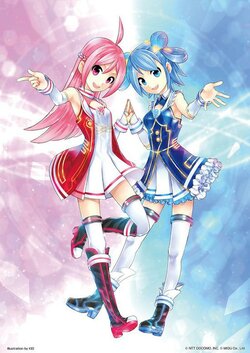 Kilin and Xi (麟&犀) are two virtual idols created by NTT Docomo (Japan) and China Mobile (China), respectively. They are also the main characters of the series Live Animation: Heart x Algorhythm, and a virtual idol unit by the name of Tacitly.
Description
Kilin and Xi are two AIs. Kilin speaks Japanese, while Xi speaks Chinese.
History
In December of 2016, the Japanese company NTT Docomo and China Mobile's Migu Animation announced they would join forces to develop a "virtual idol project."[1] The project was launched in the summer of 2017.
Profiles
Kilin


Basics
Name
Kilin (麒麟)
Birthday
April 20
Horoscope
♈Aries
Eye Color
Pink
Hair Color
Pink
Character Voicing
Minori Suzuki
Akina Homoto (as Linlin)
Moe Points
From
Japan
Group Affiliation
NTT DoCoMo
Xi


Basics
Name
Xi (犀)
Birthday
April 20
Horoscope
♈Aries
Eye Color
Blue
Hair Color
Blue
Character Voicing
Emiri Sato (Japanese)
Xiao Wu Shen Shen Shen (Chinese)
Moe Points
From
China
Group Affiliation
China Mobile
Her name comes from the "Xi" (犀) in the Chinese idiom "心有灵犀一点通" (xin you ling xi yi dian tong), meaning "the hearts of loved ones are closely linked".
References
External links