Girls' Frontline: S.A.T.8
Please contact

Varxo at discord:

Varxo#7877

should you wish to assist in this project.
Recent activities of Girls' Frontline (2018/12/11)
---
---
The Cafe is live!
The new auxiliary room, the Cafe, is now operational!

Special independent stories of certain T-dolls, event PVs and official 4-koma comics will be available!
---
Enjoy the Winter Carols, commander!
The supply gacha lasts all the way from December 22nd 00:00 to 23:59 January 14, 2019
Resupply and get Christmas-themed costumes including:

M21's Xmas At Home,
SAA's Wish Upon A Star,
Gr MG5's Crimson Guardian,
Suomi's Korvatunturi Pixie (with Live2D),
WA2000's Date in the Snow
and SVD's Winter Fairy!
Welcome to Girls' Frontline wiki!You can look up information regarding Girls' Frontline.
Moegirlpedia welcomes you to take part in improving related articles!

You are welcome to assist inediting this article。Please understand the editing guidelines and search for related information before editing. Please do not post anything inappropriate in the comment section, including but not limited to argument-causing language and personal attacks. Moegirlpedia wishes you a nice time on this site.
| | |
| --- | --- |
| | Angels of Grifon! Advance! |
S.A.T.8



Twitter:@十月十日奏[1]

Basic info
Original name

Semi-Automatic Tactical, 8 shots

| Wife of man, Safety pants, Pan
Hair color
Golden
Eye color
Green
Type
SG
Rarity
★★★★★
Developed by
FABARM
S.A.T.8 is a character from the Tactical SRPG ES game Girls' Frontline and its derivatives developed by MicaTeam and published by Digital Sky. She joined the fray on September 22, 2017.
Historical basis
When it comes to the S.A.T.8 (short for Semi-Automatic Tactical, 8 shots) series of weapons, there surfaces the need to introduce a persistent dream of developing a shotgun of H&K.
In the 1980s, HK-USA (the US subsidiary of H&K) started a merger with Benelli, selling large numbers of the MP5 series of SMGs and Benelli shotguns to the US markets (such as the M1014 adopted by the US armed forces). However, the joint venture did not progress further without any joint development of a new shotgun. After more than 10 years as one, Benelli broke free from HK in 1996, resulting in the absence of a favourable shotgun in H&K's product list (The CAWS proposed by H&K in 1982 was turned down in favour of the ACR project). Still in 1996, H&K formed cooperative relationships with Italian shotgun manufacturer FABARM, and a new family of shotguns were introduced two years later as the result of the joint venture-the HK FABARM FP-6 series, while the S.A.T.8 is one variant of the FP-6 series.
The FABARM company was not a famed company at first. Before its cooperation with HK, it manufactured traditional sporting/hunting shotguns, such as the BIG GAME series, while the FP-6 was positioned as a pump combat shotgun, with pronounced features for military/police use. The FP-6 and the S.A.T.8 are both listed under the "law enforcement" tab on the official site of FABARM, making S.A.T.8, a semi-automatic variant of the FP-6 with an enlarged magazine a whopper combat weapon.
In the introduction picture, the S.A.T.8 "is like" an improved variant of the FAST-20, but actually the S.A.T.8 was made to replace the "semi-automatic" shotguns made by slightly modifying the bolt of the FP-6, such as the FAST-20/-14. (note that the figures in the names "FAST-20" and "FAST-14" refer to the barrel length in inches.) Due to how the FAST-20 is equipped with a FABARM in-house "automatic magazine" feed system, users have to mount a special tube magazine with a capacity of 8 rounds to enable the semi-automatic function of the FAST-20, while the weapon is essentially an FP-6 with a charging handlke mounted by the extraction port without the long magazine, which, when compared to the Benelli M3 or the even older SPAS-12, makes this kind of semi-pump transition rather complex. Though the design lowered the production cost when simultaneously manufacturing semi-auto and pump-action shotguns, it also made the FAST-20 bear an uncertain position in the market (civilian pump-action/military police semi-auto), with the risk of illegal but easy conversion to a semi-automatic shotgun. The FAST-20 was soon replaced by the semi-auto-only S.A.T.8. The handguard of the S.A.T.8 looks identical to that of the FP-6, but it is fixed in place and the weapon is capable of semi-automatic fire only.
As a shotgun developed with H&K personnel, the FP-6 and its variants indeed surpassed some traditional shotguns in some aspects. As a tactical weapon, the S.A.T. 8 is built from lightweight ERGAL 55 alloy (for its receiver) and ABS plastic (for the handguard), and both parts have the MIL-STD-1913 tactical rail system installed, capable of accepting any and all optics and accessories compatible with the system. A set of ghost-ring iron sights is also provided. Some of the S.A.T.8's equipped with a heat-dissipating barrel shroud when sold. The FP-6 used the "Tribore barrel" developed by HK, divided into three parts with different bore diameters. The first part is cone-shaped, spanning a length of 10 cm, with an internal diameter of 25mm graduating to 18.8mm, capable of mitigating recoil felt at the moment of fire. The second part is a quasi-cylindrical barrel 35 cm long, its bore diameter starting from 18.8mm to 18.4mm, which raises the muzzle velocity of the rounds. The final part includes an integrated cylindrical 3/4 choker specifications may differ due to different models), to improve shot spread (the average spread of a 60-round group of lead slugs is 5.04 cm, which is highly competitive among shotguns of the same type and caliber. A breaching muzzle is provided on virtually all the S.A.T.8's capable of breaching locks. It can also be detached and replaced by at least 5 different models of muzzle devices. The stock of the S.A.T.8 has a rubber recoil-dampening pad to make firing comfortable. The trigger force is non-adjustable and the weapon lacks a short-barrel variant (while there are short-barrels among the FP-6 family and its pump-action variants, such as the MARTIAL series of the STF-12 family).
The SAT-8 uses 23/4 inch or 3-inch 12 Gauge shells, using a patented semi-automatic shotgun gas-operated automation mechanism developed by HK Fabarm(an improved short-stroke piston system). The highlights of the system lies in a polymer compression ring around the tube-shaped magazine, positioned between the handguard and the piston. The ring is compressed by pressure when a round is fired, making it travel at a constant speed backwards regardless of the type of ammunition. The larger the barrel pressure, the higher the friction between the ring and the outside of the magazine, and therefore higher friction is applied to the entire automation system. This effectively controlled the backflow of gas, prevents too-high pressures from building up while making the entire automation cycle more controllable, smooth and reliable (it is worth noting that the automation of the mechanism is beneficial to bolt reliability if controlled within a certain velocity margin. Making it too fast or too slow risks jams or cessation of feeding), and makes the weapon adaptive towards different types of ammunition.
The SAT-8 has three variants so far, one using a fixed stock and a semi-grip, called the SAT-8 Tactical, one with a fixed stock and a pistol grip, called the SAT-5 Pro Forces, and the other using a telescopic stock, called the S.A.T.8 PRO TELESCOPIC. Judging from the illustrations, the character wields an S.A.T.8 PRO TELESCOPIC shotgun.
Specifications
S.A.T. 8 PRO TELESCOPIC
Length: 1.2m
Ammo capacity: 7+1 shells
Barrel length: 51cm (20 in)
Choke: Multichoke (including a cylindrical choke and a muzzle brake)
Material: Black composite
Stock: Telescopic, adjustable
Stock material: ABS plastic
Overall weight: 3.30KG
Stock-trigger distance: 308-385mm
Specifications found in-game
The following data may contain errors and represent only the game's view towards the firearm. For reference only.
Type                       Shotgun
Weight                     3.15 kg
Length                     1050 mm
Barrel length              510 mm
Cartridge                  12ga 2.75 and 3"
Action                     Gas operated
Rate of fire               Semi-automatic
Feed system                7+1 round tubular magazine
Sights                     Iron sights. ghost ring. optional optical sights

Stats
S.A.T.8
Index number:NO.188
Rarity:★★★★★
Nationality: Italian
Type: Shotgun
CV:
Illustrator: NIN
Stats(Growth:B)
Health (S)
141 → 1410
Damage (B)
12 → 29
Dodge (A)
2 → 12
Accuracy (A)
2 → 13
Ammo capacity
6 → 6
Rate of Fire (S)
24 → 33
Ammo capacity
4 → 4
Armor (A)
3 → 22
Operational effectiveness
270 → ?
Resource demands
Ammo
30 → 90
Rations
40 → 140
Ability
Description
Cache Theory (坚壁理论)
Deploys a shield capable of withstanding 12 (35) points of damage for 3 (5) seconds.
Has an initial cooldown of 2 seconds and an interval of 12 (8) seconds.
Buffs
Effect tiles

Keypads 1,4,7

Effect
Applies to MGs only
Damage +10%
Accuracy +15%
Acquired by
Production
HEAVY PRODUCTION 8:10:00
Drops
Notes:
The buff effect of handguns will be improved when they undergo establishment augmentations.
Data in the Stats section correspond to the threshold at level 1 / at level 100 / after MOD 1 digi-mind update / after MOD 2 digi-mind update / after MOD 3 digi-mind update (if available).
Data in parentheses ("()") is the maximum possible value of the stat.
Chibi version animation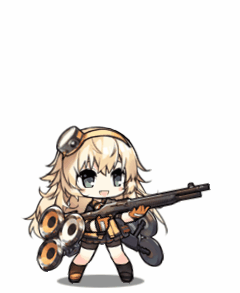 Trivia
Personality
"
In the world of Girls' Frontline, she's a very lovely and woman-like T-doll! Exceling in Italian and German cuisine, she couldn't resist anything resembling little animals. To her, the Dinergates of Sangvis are so cute that she couldn't take the shot! Though aptly prepared for any situation, once something sudden happens, she expresses her side without calmness. Ready to take her to the command center? See the detailed description below! (在《少女前线》的世界中,她是一名非常可爱且充满女子力的战术少女!擅长意大利料理,德式料理也不在话下的她,无法抗拒各种小动物形象的事物。对她来说,铁血方的兵蚁也是可爱得很难下手!虽然会对任何情况做好万全准备,但是一旦遭遇意外,就会露出失去冷静的一面。准备好带她回指挥部了吗?来看看下面的详细介绍吧!)
"
— 
T-doll-pedia: 5-star SG "S.A.T.8"
(战术人形百科:五星霰弹"S.A.T.8")
[2]
S.A.T.8 (in Chinese)

Overall setting by Illustrator
Her illustrator NIN released the picture of S.A.T.8's overall appearance and equipment in their entireties on February 14, 2018, accompanied by large amounts of text to describe boast her own daughter. (The following (translated) content is entirely original, from the illustrator herself and includes mistakes xD)
"
Immediately thought about the romantic sense of Italy when I took the commission for S.A.T.8. Just want to draw an open-minded enthusiastic kid kept thinking about it over and over, and added a lot of elements that I personally thought are energetic and romantic. That's it. In short, it suits me well. It'll be best if everyone can like this kid.

The clothing takes inspiration from some grocery stores and gas stations' work garments. The Italian ribbon surrounded by Vatican orange. Thought that there's a sense of romance this way. Never forgot about protecting her sports shorts when wearing girlish skirts, with well-placed defenses. Coupled with the sneakers and short socks, full of energy. The white color up her chest and the gloves are magic stickers. The smoothly-outlined shield won't keep people at a distance.

The socks and the orange shield and the octaple teeth are hints about the Fabarm-exclusive compensator and the two exclusive chokes. The "lion" nickname also has links to the logo of its manufactures. Finally a bit of dark color to keep the atmosphere low.
*Inside the bright energetic clothes are steady dark-colored garments.
(接到S.A.T.8稿子的時候立即想到的是意大利的浪漫風
情,好想畫一個開朗又熱情的孩子阿這樣反覆思考著
然後把很多個人認為有活力和浪漫的元素都加進去了。
就是這樣。一言敝之就是很對我自己的口味,如果大家
也能喜歡上這個孩子的話就太好了。


服裝的剪裁來自於一些便利店和油站的工作服設計,意大
利的結領被梵諦岡色彩的橙黃色包圍著,總覺得這樣畫有
一種浪漫的感覺,穿著少女氣息的短裙同時也沒有忘記好
好保護自己的光之美少女一樣的運動短褲,防禦非常到位,
配上運動鞋和短襪,滿滿的生命力。胸口和手套的白色
部份是魔術貼。外型順滑的護盾不會讓人覺得難以接近。

襪子和護盾的橙色還有八重齒都是為了暗示Fabarm公司
的專屬槍口補償器和兩種特殊槍喉,獅子的暱稱也跟生
產商的LOGO有著關係,最後再加一點深色讓氣氛不要
太高漲吧。
*鮮艷活潑的裡面是沉穩的深色系。)
"
"
S.A.T.8 is a born gentle and cautious kid, but being simply so is just too boring. Before becoming a T-doll, she's an A-doll dedicated to fill gaps on different posts, from selling cookies on the streets to grocery stores to high-end hotels, feeders, kindergartens to personal baby-sitters, a true workaholic. Came to Grifon to report in with all the understandings of life and talking skills learned from various posts.

The design of the T-doll is somehow connected with her own past and the history of her gun. The thick, naturally-curled golden hair looks gentle, and adjusts the curls according to humidity in the air, with a gentle smile and squinty eyes, makes people think twice about what she says. Thinks before she says, though a play-girl in ordinary circumstances, she retreats the moment the bottom line is exceeded. A dog person actually.

Has no prejudices in love, won't dislike entirely even if the commander's homosexual or having other weird hobbies. Though not so high in her height, she does have a big-sister-esque personality. The chest often pressed by body-tight underwear actually has something.
*Specialty: Her hair gets more messy as she tries to comb it.
(S.A.T.8天性是個溫柔細膩的好孩子,但是單單這樣也太
無聊了。在當上戰術人形之前,她是專門用於派遣到不同
地方作為填補臨時職位空缺的人形,從路邊賣可麗餅到便
利店再到高級酒店,飼育員,托兒所到私人褓姆,名副其實
的打工戰士。帶著從各種職場學到的人情世故與談話技
巧,來到格里芬報到。

人形的設計由人形自己的往事與槍的背景作些許連結,
厚厚的金色天然卷看起來很溫柔,還會根據空氣濕度有
不同程度的卷曲。配上一個和善的微笑和眯眯眼,能讓
人覺得她話中有話。是會先思考再說話的類型,雖然
一般情况下很能玩,不過要是觸碰到底線的話馬上就
會退縮。其實是個狗派。

對愛沒有偏見,就算指揮官是同性戀或者有其怪的嗜好
也完全不會討厭。雖然身長不算高,但確實是大姐姐的
性格。平常被緊身內衣壓著的胸部其實還算有點料子。
*特性:頭鬓愈梳反而愈亂)
"
"
Α self-modified shoulder bag
B smart phone with some high cost-efficiency
C Paper map wrapped in plastic
D unopened 16LAB rations isn't 16LAB an R&D organization
E 16LAB rations damaged by foodie friends, cheese-flavoured
F Grifon in-house liquid rations Mixed-vegetables-flavour There're T-dolls who don't like to eat but like drinking.
G Roller pen that doesn't easily break
H There'll be someone who gets hurt on flat ground whatsoever
I auxiliary external camera. Better placed in a dead spot. Will get knocked off if it is just used to take pictures around.
J The hair's troublesome if it's too messy. So clip it in place!
K Parts recovered from a certain battlefield. Want to have my treasure? It's there, go and find it!
L S.A.T.8 exclusive detachable mobile shield VER 1.3!
M Mechanical arm connecting the waist-level strut with the shield
N Sensor directly connecting the T-doll's head to control the shield
O Reactive armor-like shield, filled with tiny explosive modules
P There're also normal shields, share it with friends
Q Mer! Ger! Bom-bom! Ka-chiang! Zi----- (A 自行改造過的單肩小背包
B 性價比有點高的智慧型手機
C 包了塑料袋的紙質地圖
D 未拆封的16LAB乾糧 16LAB不是科研組織嗎
E 被嘴饞的同伴破壞掉的16LAB乾糧 芝士口味
F 格里芬自產液態口糧 雜菜風味 也有不愛吃但愛喝的人形
G 不容易摔碎掉的鋼珠筆
H 總有人會在平地受傷什麼的
I 備用外置攝錄機,還是放在死角比較好,隨便拍照可是會被
打掉的喔。
J 頭鬓要是太繞確實會很困擾 夾著吧
K 從某個戰場回收的残件。想要得到我的寶藏嗎?它就放在
那裡,自己去找吧!
L S.A.T.8專用可拆卸機動護盾VER1.3!
M 連接腰部卡榫與護盾的機械臂
N 直人形腦袋接收控制護盾功能的感應器
O 反應裝甲樣式的護盾部件,上面佈滿了細小的爆炸模塊
P 也有普通樣式的護甲版本,跟同伴一起分享吧
Q 合!體!砰砰!咔鏘!兹一一一一)
"
Pan
The pan-shaped structure at waist level depicted in the illustration is not a 3-wheel wall ascender, nor a reflecting magnetic drum, and is never that pan in PUBG.
Referring illustrator NIN's words, "Wanted to design a pan-like shield to enhance her cooking skills, and there's PUBG a few months later all out of a sudden. So embarrassing. Actually a vectorable, detachable shield supported by three hydraulics. (那個時侯是想設計一個像平底鍋的盾加強一下廚藝力, 幾個月之後吃雞突然出現了, 真尬, 實際上是一個由3條液壓支撐的可轉向可分離盾牌。)"
Explanation about the "pan"
Domesticity
SAT8 excels in Italian food, especially pizza, as seen in her adjutant lines, which is in stark contrast to a certain Italian friend who only knows to eat.
At the same time she loves small animals, her big-sister figure expressing her gentle personality, probably able to capture quite a handful of commanders'hearts. That is, if they can get her.
Spring Festival of 2018, mail on Day 4
It's Day 4, commander, still got some new-year supplies

Commander, the Spring Festival is already halfway over, but the happy atmosphere of everyone isn't even declining. I'm handling the remaining supplies, but it's more than I thought. If commander doesn't mind, please help take some.
Btw, many Italian restaurants are closed on the streets now right? I'm not closing here. If you are sick of rice cakes, come to my dorm to have a pizza party!

(初四啦,指挥官,这里还有年货

指挥官,新春已经过半了,不过大家热闹的氛围依然还没有衰减呢。我正在处理剩余的年货,但比我想象中的还要多呢,指挥官不介意的话就请帮我收下一些吧。
对了,街上很多意式餐厅已经休业了吧?我这里可不打烊哦,要是吃腻了年糕的话,就来我的宿舍开披萨派对吧!)

——by S.A.T.8
Voicelines
CV not implemented
Case
Line
Audio
Login screen

ショウジョゼンセン。


Girls' Frontline
少女前线
Upon login


Acquisition

Finally get to see you commander. I've got everything ready to fight with you. Are you ready too?
终于和您见面了指挥官,我已经准备好了一切和您一起战斗,您也准备好了吗?
As adjutant

Does commander want to try out this pizza? ....Alas this isn't delivered food?
指挥官想试试这个披萨吗?……哎呀,这个可不是外卖送来的哦?

Is commander a cat person or a dog person? I'm ok with both, even Sangvis ones are ok.
指挥官是猫派还是狗派?我的话随便是什么,就算铁血的都可以啦。

All pizza isn't good, commander. Try the new meat-jelly of mine?
老是吃披萨也不行呢,指挥官,试一下我新做的肉冻吧?
As adjutant (post-oath link establishment)

Ehh!? Commander, what you doing all of a sudden! ......At least let me get ready for it!
诶?!指挥官,突然间干什么啦!……至少让我有个心理准备吧!
Dormitory (liftoff)


Dormitory (touch)

Smile

Admiration

Agreement
Echelon formation


Beginning mission


Beginning battle


Damaged


Restoration


Winning battle as MVP


Retreating


Beginning autobattle


Beginning logistic support


Finishing logistic support


Finishing production


Establishment augmentation


Powerup


Ability activation






Oath-link establishment

Commander, if it's mental preparation, I'm not.........nevermind. That's out of the question already. As long as you are with me, Please handle the parts I'm not ready for~
指挥官,其实要说心理准备的话,我还没... ......算了,那种事已经无关紧要 只要您在身边,我没准备好的部分,就拜托您了~
Girls' Frontline
T-dolls

Handguns
Submachineguns
Rifles
Assault rifles
Machine guns
Shotguns

Sangvis Ferri units
Other/NPCs
Combat maps
Catalogue
Miscellaneous
WE LIGHT THE SUN IN A NEWER WORLD.
External links and references
Online material
References